INPL laser hair removal Test: Philips lumea VS Vivre® IPL. Who do you think is the winner? Read the blog post below and you'll be surprised by the results!

The summer season is in full swing, so you need to show a little more skin - smooth skin is a dream for many of us, especially women who struggle with very dark and "rich" hair. I also belong to this group.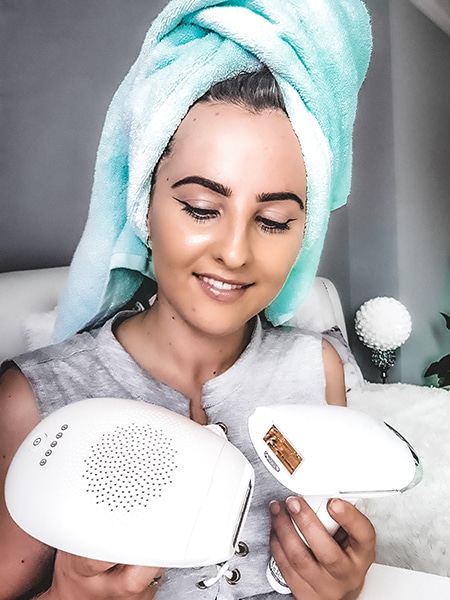 I have always dreamed of getting everything unwanted quickly hair on my body through hair removal laser. Unfortunately, my wallet does not allow me to do this, but I found an alternative that turned out to be my salvation and solved my hair problem.
I will present two devices for IPL laser hair removal home that differ in price, but have the same features - I hope that with this I can help you choose.
What to choose for IPL laser hair removal?
I hesitated for a long time before making my purchase, because a one-off cost for this type of equipment is a heavy burden for me. But I got tired of wax patches, mechanical epilator, boiled cane wax (which bruised me) and anything else I could think of to try and test and see if it could help me get rid of my unwanted hair.
I have black hair, fairly dark skin, and that's the worst part - my hair can grow back on the second day after shaving.
This then becomes a problem because you then have to shave every day and with my strong, thick and black hairs, it all ended up with a lot of skin irritation and infection and then I still had to put the pants on anyway.
As if that wasn't enough, the consequence of removing hair with a razor blade or a epilator ingrown hairs.
The introduction was too long, we will go through everything now… hang on 🙂
Philips Lumea IPL laser hair removal SC1995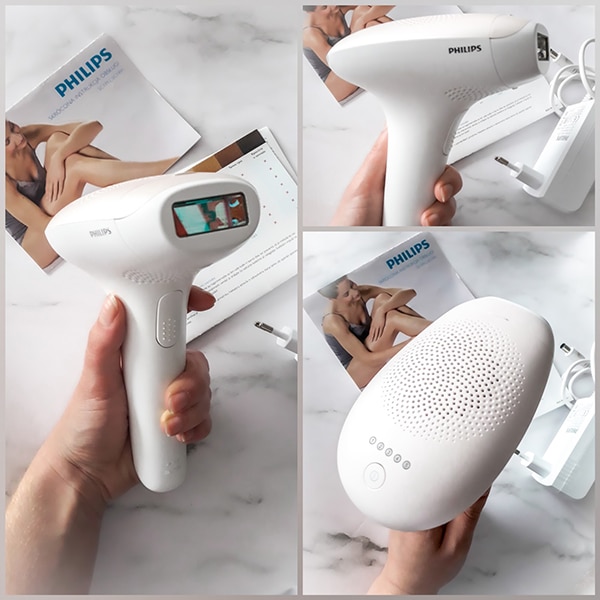 Device adapted for safe and effective laser hair removal at home
Philips Lumea uses the innovative Intense Pulsed Light (IPL) technology based on the technology used in professional beauty salons. They have adapted this technology so that it can be used safely and effectively at home. Philips has worked closely with dermatologists to develop a groundbreaking IPL package. "For over 10 years, we have conducted extensive consumer research with over 2000 volunteers." Philips Lumea directs soft light pulses to the hair roots. As a result, the hair naturally falls out and its growth is inhibited. Repeated treatment ensures that the skin remains smooth every day.
Efficient without effort
Phillips clinical studies have shown significant hair loss during four treatments every two weeks to keep the skin even. To maintain these results, it is sufficient to repeat treatments as needed. The time between treatments may vary depending on your individual hair growth.
For use on the body
Philips Lumea laser hair removal works effectively on naturally dark blonde, brown and black hair. Like other light treatments, Philips Lumea is NOT effective on red, light blonde, white/grey hair colours. This IPL is also not suitable for hair removal of dark skin.

Phillips Lumea IPL laser hair removal can be used on the areas under the neck: legs, armpits, bikini area, arms and stomach. The unit's large laser allows for quick treatments on larger areas of the body, such as the legs.
Gentle treatment for the skin.
Philips Lumea is a complete solution that you can use right out of the box. It is worth mentioning that the product does not require the replacement of lamps.
Five adjustable level settings
Philips Lumea laser hair removal has five adjustable light intensity settings to ensure that the treatment is gentle and gentle on all bodies yet effective epilation. Properly performed IPL treatments with Philips Lumea are safe and gentle - they can also be used on sensitive skin and body parts.
Technical specifications
Wet effect: 230-240 V 50/60 Hz
Type of epilation: IPL hair removal
Lamp life: 250 000 light pulses
Color: white
Additional features: Automatic pulses, built-in UV filter
Packaging dimensions: 19 x 26, 60 x 12 cm
Weight with packaging: 1 kg

Applications: arms, legs, stomach, bikini areas, armpit.
My opinion about Philips Lumea IPL laser hair removal
Two years ago after a long time thinking, I decided to try Philips and invested in the SC1995 model.
The box contains instructions in several languages, including English, a power cord, a cloth to wipe the glass (after using the IPL laser on unshaven hair, there will be residue on the lamp that must be wiped off with this cloth; if you shave thoroughly with a razor before use, you will avoid this moment) and the Philips Lumea IPL laser which is our main target for review.
As for the laser hair removal treatment, I had to wait a long time to see any results, for me it took about 4 months until the hair was gone almost completely. However, I saw reduction in hair regrowth already after about 4-5 weeks.
Philips Lumea IPL stopped working
Then the sad thing happened that my Philips Lumea laser hair removal stopped working completely one day after use. Now I don't know if my particular IPL had some childhood illness or what was going on but at the end of one of my treatment sessions the Phillips IPL gave off a strange pulse and it hurt a lot and after that it didn't work anymore.
Since the device was not covered by the warranty, the only solution according to the manufacturer was to buy a new one and since I couldn't afford to spend over 3 000 SEK again, I had to go back bitterly to my old razor blade.
One day I was googling and saw a promising equivalent to the Philips Lumea at a much lower price and was absolutely delighted!
Vivre® IPL for permanent laser hair removal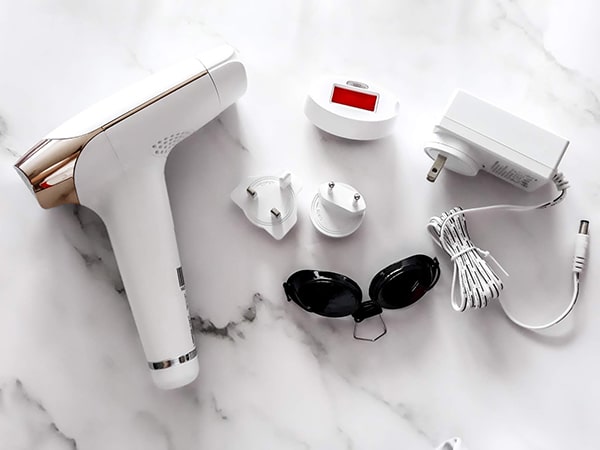 The large 3.9 cm² light window allows epilation of any area of the skin. Compared to traditional hair removal methods, it provides higher efficiency and faster hair removal.
Vivre® IPL for laser hair removal is equipped with a skin sensor: when the LED light on the device flashes, it means that the IPL lamp will be released when you press the button.
Safe to use, no side effects
Recommended frequency of use:
First 4 weeks: twice a week,
Next 4 weeks: once a week.
When the amount of hair begins to decrease or grows more slowly, use Vivre® IPL once a month to maintain the effect.
My opinion Vivre® IPL for laser hair removal
User reviews online were very positive about Vivre® IPL for laser hair removal and many users recommended the purchase and I was not so hard pressed considering that my Philips Lumea that I wrote above about had stopped working and I was in need of a replacement. 
Vivre IPL comes nicely packaged and a magnetic box is a very good idea. It has two pulse heads that come with it – one yellow and one red. A red that is used for skin smoothing and that helps and removes wrinkles and a yellow one used for hair removal.
Surprised by my new discovery!
Recently, I discovered that the red lamp that comes with the Vivre IPL has light beams that eliminate broken blood vessels. So far I have done four series and I have to admit that the cheeks in the face are not as inflamed and red as before after my treatments.
To be honest, I don't really think I will do anything about my red vessels in the face, but if I still manage to soften my skin, it will be my best home appliance ever.
The red lamp also works on stretch marks, enlarged pores and skin discoloration!
Vivre IPL user manual
Vivre IPL for laser hair removal also comes with user manual in English and Swedish, power cord, 3 types of plugs for socket (depending on country) and - what surprised me very positively - protective glasses against laser light. Philips is not equipped with them namely, and I got pain in my eyes from looking at the light when I used my previous Phillips IPL. I either had to close my eyes then or use regular sunglasses.
Vivre IPL is easy to use - just plug it in, plug in the power cable, put it on your body and start pressing. I have been using it for 9 weeks once a week and compared to Philips it is much better!
The hair grows back more slowly after about 2 weeks. There are also larger patches where the hair does not grow back at all, which I was pleasantly surprised by. The effects are almost immediate. Another plus is that the tip of the "gun" doesn't heat up like the Phillips Lumea, so it doesn't hurt when epilating.
I have discovered one more feature of the Vivre IPL for laser hair removal and that is that holding down the start button for about 5 seconds generates a beam of light automatically without having to click each time - I must admit this is a great convenience and improvement!
Disadvantages
As for the disadvantages, in both cases it is a time-consuming procedure, so you need to take your time to perform it carefully.
The table below summarizes: Philips Lumea vs Vivre laser hair removal:
| | | |
| --- | --- | --- |
| | PHILIPS LUMEA | VIVRE IPL |
| Price | 2990 kr | 1990 kr |
| Availability | Available in stores and online | Online only |
| Easy to use | Very easy | Very easy |
| Number of pulses | 250 0000 | 300 000 |
| Visible effects | After about 4-5 weeks | After about 2 weeks |
| Equipment | Basic | Extra head for skin treatment, Protective goggles, 3 types of plugs for the socket |
| Irritation after use | No | No |
| User manual | In several languages | English, Swedish |
As you can see, Vivre works IPL laser hair removal much better in comparison to Philips Lumea, but I still recommend both IPL lasers, they helped me a lot in the fight against hair removal.

I will continue to use Vivre IPL regularly, maybe I can get rid of the hair so it doesn't grow back - that would be wonderful.
"Best IPL on the market right now"
Vivre® IPL can simply be described as the most innovative, cost-effective and practical laser hair removal system at home.