To write this post about the best epilator in the market I have spent countless hours researching different models on the market so that you don't have to. It has been a challenge but a fun one nonetheless.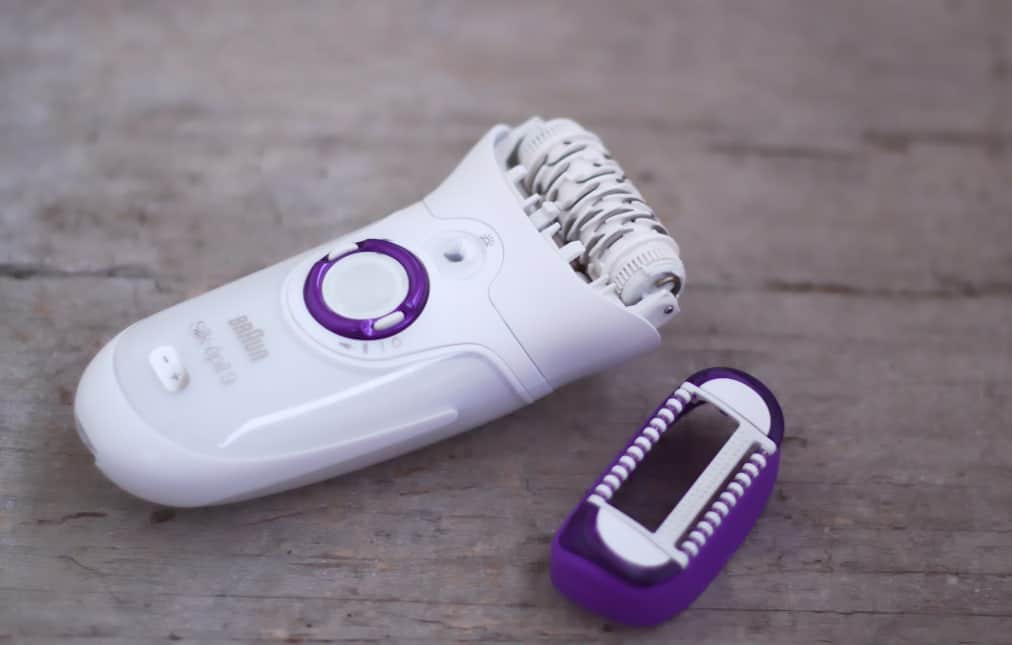 Advertisement
"Best method for permanent hair removal!"
'A product that really gives you better results. Remove those unwanted hairs with laser in just a few treatments at home in peace and quiet.
I had a lot of fun researching all these epilators and compiling a top list along with a description of each epilator.
Whatever your needs, I am sure you will find one of the epilators in the list that suits your needs.
---
---
Epilator best in test for 2020 - 2021
I've been using mine for about ten years now and I still think these devices are a cheaper alternative to waxing and are also a more long-lasting hair removal method than shaving and hair removal creams.
When it comes to choosing the best epilator for you, the good news is that there are only a few models that stand out so your choice should be pretty easy.
Here are the best epilators + reviews:
braun silk epil 9: Best All-Round
The first device on my top 11 list is one of the newest and best epilators on the market, the successor to the Silk-Epil 7 series.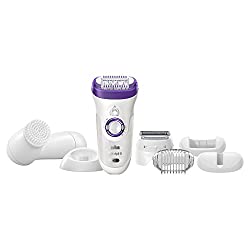 First of all, it's so beautiful.
The Braun Silk-Epil 9579 is the most beautiful model I've set my eyes on and it's quite heavy but that doesn't feel like a problem. It has a 40% wider attachment than the Braun 7561, which leads to a faster epilation.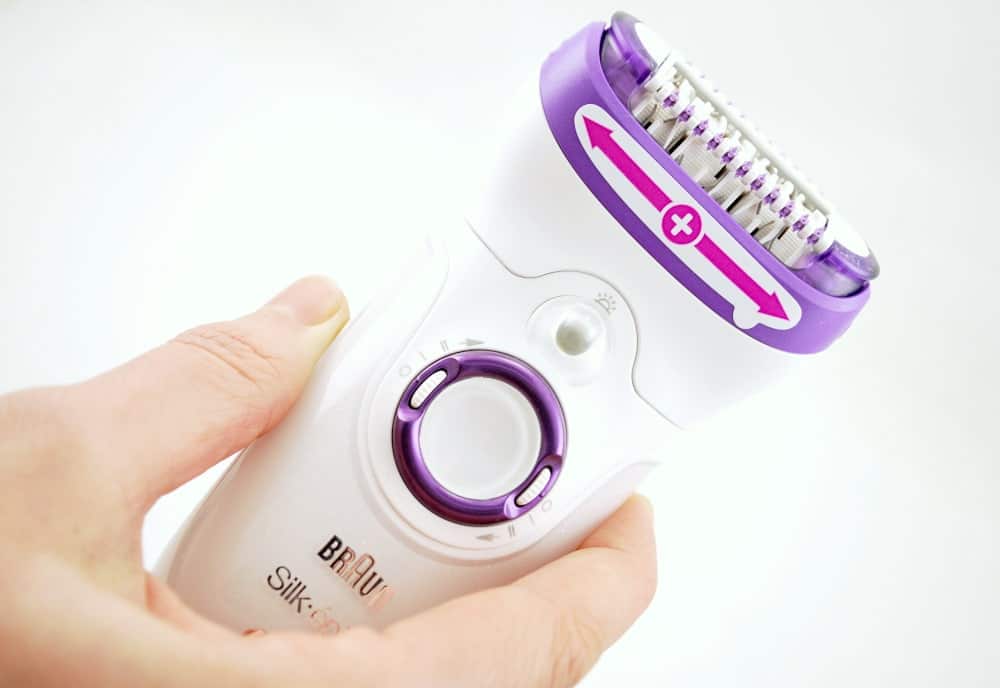 The tweezers are differently shaped and sized and feature microgrip tweezer technology to remove really small hairs. It still doesn't mean that absolutely 100% of hairs will be removed.
Usually there will still be some hairs left, some are just too small.
Braun 9579 is also an epilator that works in both wet & dry environments with the following accessories:
Massage rollers that create a nice sensation, they ease the pain a little - when you get more used to epilators, you can take the rollers down for direct contact with the skin.
Pivoting bracket
Skin contact cap
Face cap
Razor mount
Trimmerlock
Charging stand
Facial cleansing brush
There are also some tips for lifting up lying flat hair. From my point of view they do not affect the overall performance.
It is a wireless epilator
You get 40 minutes of use after charging it fully (1 hour). A tip is to charge it fully every time to extend the battery life.
The built-in light is another great addition along with the two speeds.
You can be sure you're paying for a complete hair removal package because that's actually what the Braun Silk-Epil 9579 represents:
A beautifully designed model for body and face
En shaver
A trimmer
An exfoliating device thanks to the facial cleansing brush
It is a complete grooming set.
Braun silk épil 9 epilator - disadvantages
When it comes to the 9579 and the entire Braun Silk-Epil 9 series, there's not much to complain about. It's pretty clear that this is a replacement for the 7561 as one of the best epilators at the moment.
One disadvantage is that it cannot be used while charging.
Since the Braun silk épil 9 works in both wet and dry environments, Braun probably thought that some people might take their epilators in the shower while they are charging and we all know what would happen in such a scenario.
Another disadvantage is the really high price. It's a shame that not everyone can afford this model because it's so good.
Conclusions
Braun Skil Epil 9 is a very good epilator overall. The one that in my opinion is the winner of "epilator best in test".
Braun Silk épil 7: Best for body and face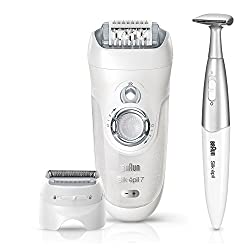 It's great for women who want to take a relaxing bath and remove hairs at the same time. It is also a good epilator for men, as it is powerful. The advantage of the Braun Silk épil 7 is that it works in wet and dry areas and is also cordless.
Charging takes 1 hour and works for up to 40 minutes. It is easy to clean and use it as it can be washed without any problem, no worries there.
Some users have complained that after a while the battery stops holding a full charge so it's best to extend the warranty if possible at an extra cost, just make sure it covers the battery too.
It has 40 tweezers, which is not spectacular either. What is spectacular is how fast this model is and how powerful it is.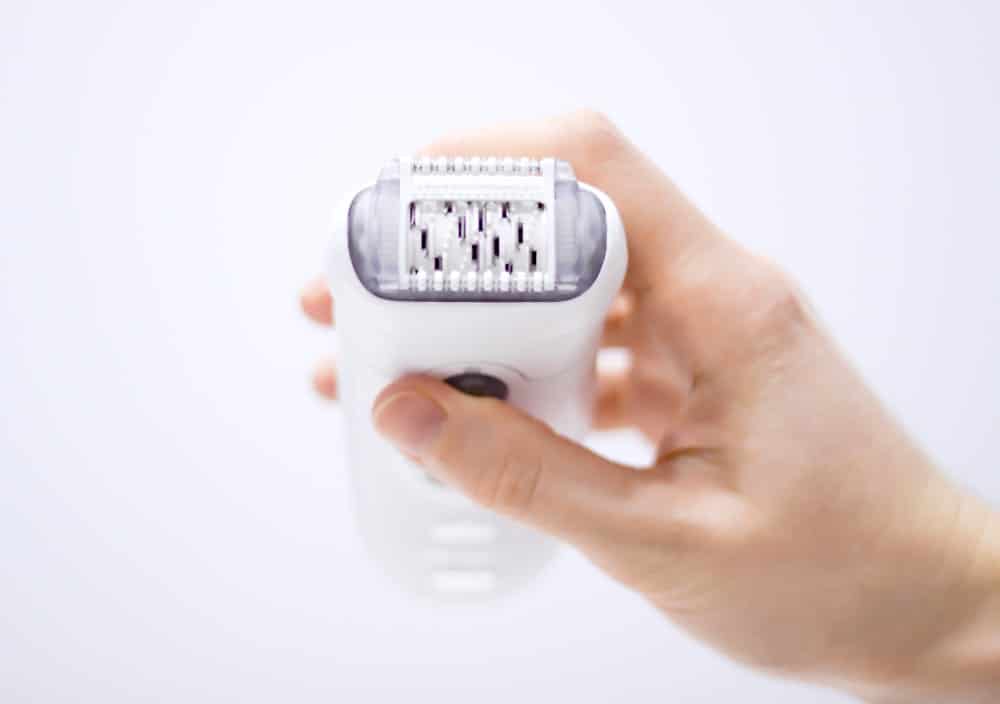 What is also spectacular.
Is that the tweezers are close to the grip so that it will pick hair as small as 0.5 mm, just like the above epilator from Emjoi.
I dug a bit into this aspect because it interests me quite a lot.
The results are:
According to many users, the Silk-Epil 7561 removes even the smallest hairs. It's really good to find out that it works properly because this epilator is quite expensive namely.
If you may have noticed, the Braun Silk epil 7561 is very similar to the Panasonic ES-WD51-P, and they are also in a close price range. They're both work in wet and dry areas as well as having trimmer attachment, shaver attachment and tweezer attachment. Both work up to 40 minutes on a single charge.
The Braun 7561 eplilator also has:
A special mount adapted for the face
A delicate "area cap" is also called the underarm cap, which can also work perfectly for the bikini area.
It seems that the Braun Silk epil 7561 is the complete package, so it's worth the extra money, just as long as you're comfortable spending that amount.
List of other functions:
The swivel mount
The built-in lamp
Two speeds
Razor mount and trimmer mount
The wipes for use before epilation (These don't do much other than smell nice.)
Braun Silk épil 7 Eplilator - disadvantages
The price may be the only thing I can say that I don't like. But it's still totally worth it.
This model can also not be used while charging, it must be disconnected. The explanation for that would be its wet function.
Conclusions
Braun Silk épil 7 is an expensive epilator but it is also a great one and one of the best epilators for body and face. It's cordless and it's definitely not for everyone but I love it.
Remington EP7030E: Best budget epilator for body + face
The Remington EP7030E is a bit of an unusual model. Why do I say that?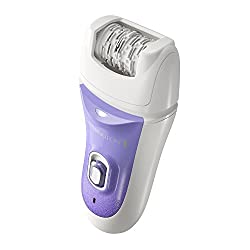 Because it's really affordable. It's not entirely surprising. The aspect that surprises me is the manuals that come with it:
There are some little green rollers there that massage the skin, that's the Remington version for the massage roller attachment from Braun.
The precision fastener which is actually a face fastener and it can also be used on the bikini area, making the package complete
It is cordless and can be used in wet and dry environments so it can also be used under the shower. This is the cheapest epilator that can be used in both wet and dry environment to remove hair from the whole body plus the face.
In addition, the Remington EP7030E also has:
40 tweezers
2 speeds
Built-in lamp
Remington EP7030E - disadvantages
As always, when it comes to cordless models there are complaints that the battery doesn't last a full run after a few months of use.
That's why people are still not completely comfortable with buying a cordless model.
I and many others are still waiting for a corded epilator with all the right accessories, like the Braun 5780, but it's not available worldwide yet.
Conclusion
What exactly is the Remington EP7030E? It is one of the best epilators for body and face.
It's the much cheaper version of the Braun Silk epil 7. It's still impressive.
Emjoi eRase e60: Best affordable epilator
The Emjoi eRase e60 is a fantastic epilator and there's no way I'd leave it out of this round up of the best epilator reviews.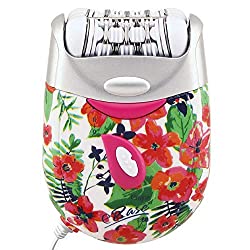 It has many different functions:
A really affordable price
60 tweezers, second only to the Emjoi AP-18 in number of tweezers
An accessory for sensitive areas that covers some of the 60 tweezers, so you can use the Emjoi e60 to even remove facial hair
Wired
2 speeds
Skin Glide Technology that lifts up the flat hairs
3-disc system that ensures skin stretching during hair removal
Also available with straight and trimmer attachments
Emjoi eRase e60 epilator - disadvantages
There is no built-in lamp, it is missing on all Emjoi models.
Conclusion
Want a powerful corded device that lets you use it to even remove facial hair, all at a really affordable price?
Then the Emjoi eRase e60 could be the best for you.
Braun Silk Epil 5280: Best for the body
The Braun Silk epil 5280 is the predecessor of the Braun Silk epil 7. They are actually identical. Except for the big price difference between the two.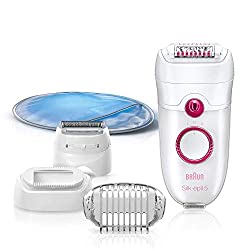 The thing is, you can also use the face and surface protector that comes with the SE7 on the Silk Epil 5280.
If your Braun SE7 stops holding a charge anymore (this has happened to many users), you can buy the more reliable 5280 instead.
The Braun 5280 is as powerful and as good as removing coarse and fine hair from the root.
Braun 5280 epilator has:
40 tweezers, powerful and effective, which do not cut the hair on the surface but pull them from the root
Massage attachment for some comfort during epilation
Wired
2 speeds
Built-in lamp
It also comes with an ice pack but I recommend using it after epilation if you want to soothe your skin.
Braun Silk épil 5280 epilator - disadvantages
As for the Braun 5280, I actually don't have much to complain about.
It does not have a mount for more sensitive areas or a mount for the face, so you can only use it for hair removal on the body but it is also quite affordable in price.
Conclusion
Braun Silk épil 5280 is a powerful corded epilator that removes hairs from the root without breaking them on the surface, whether they are thin or coarse.
It's a quick device, you only need two sessions to remove hairs.
Although the price is quite affordable, this is a robust reliable model that you will have for many many years to come.
That's why I like it so much and that's the main reason for including it in my best epilator review list.
Emjoi AP-18: most powerful epilator for the body
The Emjoi AP-18 is an innovative epilator like no other - it has two attachments that sit against each other. These two attachments together have 72 tweezers so it's probably the fastest epilator out there.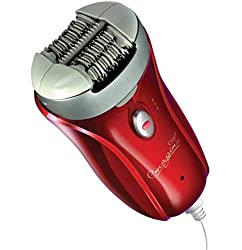 If that doesn't impress you, then you'll be pleased with the feature that means it can effectively remove flat and short hair, not just the coarse, thick and dark ones.
It is supposed to remove hair as short as 0.5 mm and after reading some reviews written by women who are currently using it, I would say that the epilator keeps its promise.
72 tweezers is an impressive number, but there is a general belief that the more tweezers you have, the more pain you feel, with the advantage that you get even skin faster.
In this case, the AP-18 from Emjoi is an exception and I'm really happy to know that women who are already using it are proud to say that the pain level is more than acceptable.
The replicator needs to be plugged in with a cord, which is quite logical since it is so powerful.
It also has two speeds.
And it comes with a cleaning brush for hygiene plus the head is removable so it can be washed.
Speaking of hygiene, Silver Ion technology provides antimicrobial protection, which can also help reduce ingrown hairs.
The epilator is not only suitable for women but also for men because it is fast and powerful.
The alternative is the specially designed men's epilator Emjoi AP-18MS.
Emjoi AP-18 - disadvantages
I'm already sold, even though it lacks a built-in light.
Conclusion
The Emjoi AP-18 may be a little on the expensive side but I think it's worth every penny. But let's wait and see, maybe the upcoming epilator reviews will reveal an even better device.
Panasonic ES-ED90-P: Very good epilator for wet & dry, body + face
First of all, the design is quite nice, it's just so girly.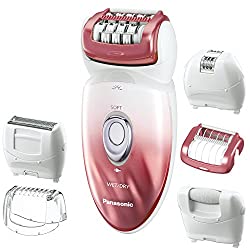 Okay, let's get past my enthusiasm and see what the Panasonic ES-ED90-P has to offer for its rather high price tag.
Beware that the price of this device tends to go up and down quite a bit. Sometimes it's on offer and the price is affordable, take the opportunity and buy it then.
It's a cordless epilator that works in wet and dry environments, meaning you can use it with shower gel.
It charges in an hour and you can use it for up to 40 minutes. It cannot be used with a cord.
It has 48 tweezers so you'd think it would be pretty painful except that it's really fast.
There are many women who attest that this is the least painful epilator and I think the side-to-side sliding head is an innovation that helps quite a bit.
Another big advantage, which I appreciate as a reviewer and tester, is that there are two epilation attachments included:
A wide epilating attachment with double discs
A soft mount for sensitive areas
The normal head has 48 tweezers, which makes it really fast and powerful.
You can switch between the different attachments when you want to be able to remove hair from sensitive areas.
The Panasonic ES-ED90-P is described as a 3 in 1 hair removal system but what does that mean?
That means there is:
Tweezers head (epilator head)
A shaving attachment
A bikini trimmer attachment
There is also a pedicure attachment to remove dry skin.
The tweezer head is the only one that removes hair from the root, the other two attachments only cut on the surface of the skin, from where the razor head cuts the hair closer to the skin than the trimmer.
All mounts can be used with either foam/soap or directly on the skin.
This is a 2-step model and it also has a built-in lamp.
The box also contains a travel bag and a cleaning brush and of course, for even better hygiene, you can wash it.
Panasonic ES-ED90-P - disadvantages
Are there any serious things I don't like about the Panasonic ES-ED90-P?
The answer is a clear no.
Conclusion
As I mentioned earlier in this post about the 11 best epilator reviews, cordless models aren't exactly my favourites.
It's a model with so many accessories and when the price is right, this is a great device.
Braun Silk épil 3270: cheap epilator for the body
Braun Silk épil 3270 is in the same price range as the above model, Philips Hp6401.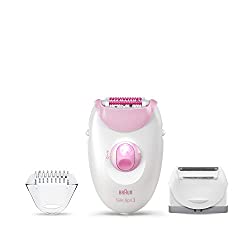 So this is the second best cheap model in this best in test review. The Silk Epil 3 series is very old, I guess it was released about ten years ago.
It's still incredibly popular and the Braun Silk épil 3270 has a lot to offer at its affordable price:
20 tweezers
Massage bracket
Built-in lamp
2 speeds
Razor mount and trimmer mount
Wired
The massage roller attachment replaces the main attachment. It's actually good and makes the pain a bit more bearable.
Yet, it will still be painful. This is true for all epilators.
Braun Silk épil3270 - disadvantages
I personally would have preferred a single attachment rather than separate attachments for shaving and trimmer but I can understand why these separate accessories might be helpful for some users.
The thing is, Braun Silk épil3270 only has 20 tweezers, so it takes some time to remove all the hairs. It will also break some instead of removing them from the root.
It is an affordable model and you need some time to remove all the hairs. You will need several sessions.
Conclusion
There's not much to say about the Braun Silk épil 3270.
It's one of the best cheapest epilators and one of the oldest but it's still very good and does its job and removes hair from the root, which is the essential aspect when talking about any epilator at all.
Philips Hp6401: Best cheap epilator
The Philips Satinelle HP6401 is the perfect example of a classic epilator. There's nothing fancy about it, it just does its job and removes hair from the root.
The epilator offers very satisfactory results though, plus, the price is the lowest you can get so many can afford it.
An alternative in the same price range is the Braun Silk-Epil 3170.
It works with cable
It has two speeds
It has an efficiency ceiling which is always a must
The design makes it easy to hold as it is ergonomically shaped.
You can wash the epilation attachment
The 21 tweezers
Fewer tweezers means that the epilation process is longer, but at the same time the price is directly proportional to the number of tweezers.
It's up to you whether you choose speed or lower price.
The Philips HP6401 is an incredibly affordable choice and it's not as painful as other epilators, which is a big bonus.
It's definitely the ultimate low-cost model from my list.
Philips Hp6401 - disadvantages

It doesn't have a built-in light but that's not an incredible loss.
The Philips HP6401 does not come with a cleaning brush but it is replaced by the possibility to wash the epilation attachment.
You can use a regular toothbrush instead of a cleaning brush.
Conclusion
I think the Philips Hp6401 is totally worth it. Considering the low price and I recommend it to all of you, especially if you have a tight budget and want to keep it simple and classic.
Emjoi Epi Slim e18: Best epilator for face
You can't have full reviews without talking about the best facial epilator.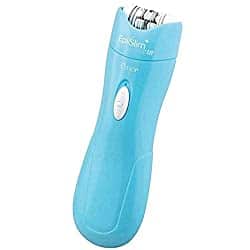 The Emjoi e18 is the successor to the Emjoi AP-9L.
They are both really good epilators for the face, the best in my opinion and that's why I have included the Epi Slim e18 in my epilator reviews. If you already own the AP-9L and it still works well, you don't need to replace it.
For those looking for a very good facial epilator, the Emjoi e18 should be the first one you look at.
It has 18 tweezers, hence the name e18. That's a lot of tweezers for one face model.
It also means you can even use it on your bikini area as well as your underarms. Just make sure to clean it really well, including alcohol.
It is extremely important to always use a thoroughly cleaned device when it comes to facial epilators to avoid problems with your skin.
It's a powerful model that removes both coarse and fine hairs. There's also Skin Glide Technology that stretches the skin during epilation for a little more comfort.
Facial epilation is definitely painful.
It took me a while to get used to the pain and I used cold facial wax strips for several years before I used both my Braun 7 and 9 models with their respective facial attachments. If you can't handle pain well, you should try IPL laser hair removal.
It is not rechargeable, it needs 2 AA batteries to work.
Because of its power, it can also be used as an excellent for bikini area.
Emjoi Epi Slim e18 - disadvantages
For some, the fact that it runs on 2 AA batteries may be a nuisance. It definitely adds to the cost.
There is no built-in lamp so you have to epilate in a bright place.
I discovered that the light on my phone is the best way to make sure I haven't missed any hairs, no matter how small they are.
Conclusion
Facial epilation is not for everyone, it is painful. But the Emjoi e18 is also fast and powerful, removing both thin and coarse hair equally effectively.
If you want to try to remove hair from your face, the Emjoi Epi Slim e18 is the model to choose.
Philips Satinelle BRE235 Epilator
The Philips Satinelle BRE235 is a new epilator and I'm happy to include it in my epilator list.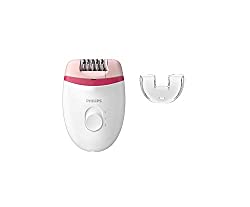 It is a new and improved version of the Philips hp6401. The number of tweezers is identical. That's what I think although I couldn't find the actual number anywhere.
The tweezers, their shape, placement and design are completely different.
Philips Satinelle BRE235:
Is an epilator with cord
There is no information about the number of tweezers the BRE235 has but given the size of the mount and its close similarity to the hp6401, I would say it has 21 tweezers
Has two speeds
No built-in lamp unfortunately
The difference between this and the old model is that it has a sensitive area attachment, so it works well for the whole body and bikini area and you can even use it for facial hair removal, the sensitive area attachment has enough tweezers to say that the Philips Satinelle BRE235 can be used as a facial epilator as well.
Disadvantages
The price at the moment is a bit high, it is significantly more expensive than the Philips hp6401.
Conclusion
I'm pretty sure it will go down in price in the future, which will make it a cheaper epilator than it is right now, so hold off on your purchase until the right time.
Epilator reviews: frequently asked questions
Now that you've seen my reviews of what I consider to be the best epilators on the market, let's dive into everything there is to know about these epilators.
In short, this is what you will learn:
What is an epilator?
Types of epilators
How does it work?
Do epilators work well?
How to epilate
When should I epilate and how often
Is it painful to use one? (spoiler: it is)
Does epilation become less painful over time?
How to make epilation less painful
Does it cause ingrown hairs?
How to prevent ingrown hairs caused by epilation
On which parts of the body can you use one?
How long does the smooth skin last?
What to look for when buying the best model?
Epilation vs waxing vs shaving: which is better?
Advantages and disadvantages
What is an epilator?
I know there are women out there who haven't heard of epilators until now and that's okay.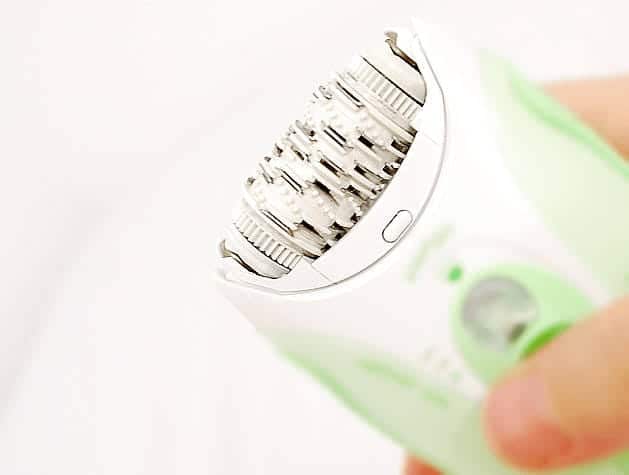 I'll do a longer introduction so you can catch up.
An epilator is a small device that removes hair from the root thanks to its small metallic/ceramic tweezers. Hair is not removed one at a time as it would simply take too long. A bunch of them are removed from the root in one go.
The tweezers rotate and they grab the hairs and pull them from the root. You can have smooth skin for two weeks, up to a month. It's absolutely amazing, you have to admit it!
Types of epilators
Is actually the first model, invented by Epilady. If you've ever seen or used Bellabe, you know what I'm talking about. The feather epilator is powered by a motor. The Bellabe is one that has to be rotated by hand.
Remington was the first to replace the spring epilator with a series of metal discs.
With tweezers
It is the modern model, which we all use at the moment.
How does an epilator work?
The head consists of small metal tweezers that move together and apart as the head rotates, grabbing hairs and pulling them from the root and then releasing the removed hairs.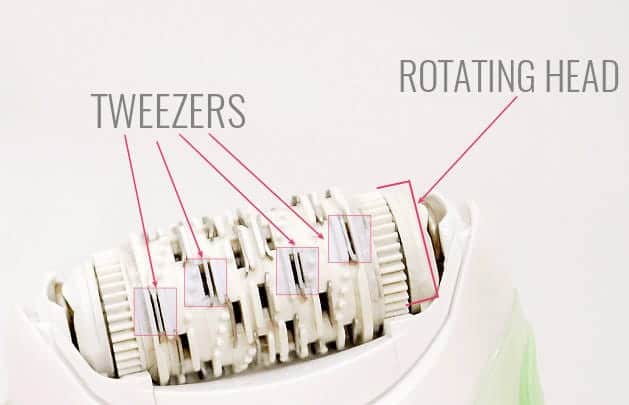 Several small tweezers grab hairs and pluck them from their roots. They are automated tweezers and therefore the pain is also more intense. The hair is pulled from the root, just as is the case with waxing.
Do epilators work well?
There will never be 100% of hairs removed from the root every time you epilate. No matter how expensive your device is, there will still be a few broken hairs here and there.
Some hairs are too thin and too short to be caught and removed this session but you'll get them next time.
All in all, yes, epilators work well.
After prolonged use, fewer hairs grow and most importantly they become thinner and that's when things get exciting but if you want to get rid of your hair permanently I recommend using IPL laser for home use.
Since I epilate once every two weeks, I measure the results within that time frame. The longest I let my hair grow is a whole month in the winter when I'm lazy. From my personal experience, I can tell you that there are a lot less hairs on my skin now and they are thinner too!
The result is that in the beginning it probably took me up to 2 hours to get my legs as soft as silk, but now I do it in 30 minutes.
Short guide on how to epilate
A good reason why I recommend these epilators is because they are easy to use. Anyone no matter how young or old, male or female, can understand how these work.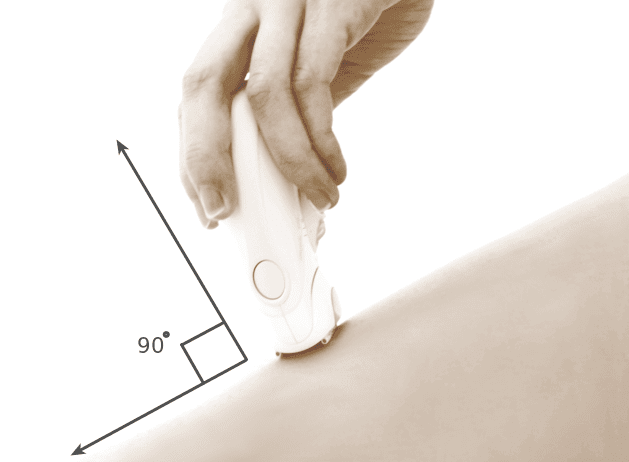 Just hold the device perpendicular to the skin, there's no need to press into the skin, relax your hand and the tweezers will do their job.
Slowly move the epilator in the opposite direction to where the hair grows. Only move it slowly, otherwise you will end up with many broken and missed hairs.
Keep skin taut. This helps the tweezers grab hairs and helps with the pain.
Just remember:
If it doesn't hurt, it could mean you're moving too fast. Slow movements are the only thing you should be thinking about. And moisturise after each epilation.
That's all.
Now you know how to epilate.
When should I epilate and how often
It depends from person to person. The average period is once every two weeks.
If you have rapid hair growth, you can epilate once a week but leave at least a week between sessions.
Just remember:
If you get lazy (as I do during the winter), it will be much more painful as the hair grows longer.
What you can do then is to use a trimmer to shorten them.
The secret is:
Don't let your hair grow back too much because it will be time consuming and the pain, let's say, is definitely not pleasant.
If it's too short, the tweezers can't pick the hair, but that's debatable because there are models that can remove even the smallest hairs.
I don't know what the recommended length is and let's be honest, no one measures hair length on legs, armpits, hands or bikini area. It's not rocket science as well.
Is it painful to use an epilator?
Hair is removed from the hair follicle so yes, epilation is painful.
Just like waxing, even a little more painful than waxing, especially when it comes to hair removal in the face. If you want to avoid the pain, I recommend switching to a IPL laser for home use. A bit more expensive but with great advantages.
Shaving, hair removal cream and IPL laser are the non-painful hair removal methods.
---
"Best method for permanent hair removal!"
'A product that really gives you better results. Remove those unwanted hairs with laser in just a few treatments at home in peace and quiet.
---
Will epilation become less painful in time?
It definitely does. If you go from shaving to epilation straight away, it will be really painful at first.
Some people can't take it and if it's a torture for you it would be best to give up and as I mentioned earlier, move on to IPL laser for home use.
But if you stick with it, it will become less painful with time. Your body and mind will adapt. If you go from waxing to epilation, the transition won't be so uncomfortable.
How to make epilation less painful
I won't lie: there aren't many things that make epilation less painful. Taking a hot bath or shower beforehand helps open up the pores. Keeping your skin taut during hair removal also helps a little.
If you want to epilate your bikini area or underarms, use a sensitive area attachment.
Do epilators cause ingrown hairs?
Yes, they do. Just like shaving and waxing.
Ingrown hairs appear when the hairs cannot break to the surface, instead they curl under the skin and continue to grow underneath.
They are terrible!
How to prevent ingrown hairs caused by epilation
There is only one solution: peeling.
There are actually two types:
Physical - body scrub, exfoliating gloves, loofahs
Chemical peels - products containing alpha-hydroxy acids or salicylic acid
If you have nasty ingrown hairs and have had them for a while, I recommend trying a chemical peel, like Pfb Vanish or Tend skin solution. They're two of the best. Or start using IPL laser, it creates no ingrown hairs.
I exfoliate almost daily and always before epilating and use exfoliating gloves and a really good body scrub both on dry skin before showering and after showering on wet skin.
I also have really sensitive skin but neither the gloves nor the scrubs have damaged or irritated it.
Nor chemical peels.
They simply remove the layers of dead skin cells, revealing hairs that have grown under the skin (thus the name ingrown) while preventing more from forming.
On which parts of the body can you use an epilator?
An epilator can be used to remove hair from the entire body, as long as you can handle the pain.
There are models that have a facial attachment so they can be used on both body and face.
Or you can buy a separate face model.
How long do I have smooth skin after using an epilator?
On average about 1-2 weeks, but this depends on the person. Your skin will never be as smooth as after shaving but pretty close anyway and it lasts longer. If you feel with your hand after a week, you will feel small hairs starting to grow back but they are not visible. So you can wait for another week until you need to epilate. If you are bothered by the sight of small hairs, you can epilate earlier.
What features to look for when buying the best epilator

1. Powerfulness
The power of an epilator depends mainly on how many tweezers it has. The rule is: the more tweezers it has, the more hair it removes from the root in a single pass.
Fact:
These small rotating tweezers are the ones responsible for pulling the hair from the root. That said, the Emjoi AP-18 is the most powerful model as it has 72 tweezers, followed by the Braun SE7 and Braun Silk épil 9 with their 40 tweezers which are incredibly powerful.
With these two devices, you rarely need more than two sessions for the hair to be removed from the root.
Epilation is not as fast as shaving or hair removal cream, but a more expensive and powerful epilator can speed up the process. There are some women who complain that epilation is too slow but at least it's much easier than waxing.
2. mounts
Besides the number of tweezers, the attachments included in the package are in my opinion the second most important.
Low-cost devices usually include a single, as the Philips HP6401 does.
An expensive and good devices for women usually also usually contain a mount for sensitive areas or to facial, which means you don't need to get a separate epilator for facial hair.
It's a great way to save money. You can use an epilator to remove facial hair even if it doesn't come with a facial attachment. Many women do it.
However, it's much more painful without a face mount than it would be with one on.
Secondly, it can cause irritation and breakouts because all tweezers come into contact with the skin to remove hairs from the root. If your facial skin is used to waxing, the risk of breakouts or irritation is minimal.
3. Epilator for wet and dry environments or dry only?
Why would one prefer an epilator for wet & dry environments? as it can be used during the shower or when you bathe.
The hot water opens up the pores, which is an excellent way to reduce epilation pain. If you've never waxed or used an epilator before, you probably don't know the intensity of the pain when so many hairs are removed from the root.
A wet & dry epilator can be just what you need to get you through those first epilation sessions.
4. With corded / cordless
All epilators for wet environments are of course cordless. As a rule, they run for up to 40 minutes on a single charge and usually take an hour to recharge. Almost all models experience charging problems after a while and discharge quite quickly after a few months.
5. Built-in light
It is an excellent feature to ensure that all hairs are removed. Emjoi seems to avoid including this feature for any of their epilators.
This feature is not so extremely important because if the light is missing, you can always epilate in a well-lit room. You can also use the light on your mobile!
6. Washable head/bracket
For perfect hygiene, most have a washable head. A clean epilator doesn't guarantee you won't have ingrown hairs ever again, but it helps.
7. Additional features
Such as a trimmer or a shaver attachment.
These two attachments, in addition to tweezer attachments, can instantly turn an epilator into a shaver or a trim. It's a 3 in 1 system at a very convenient price.
A massage attachment or a swivel attachment are other practical and useful additions.
The only downside is that they can cause ingrown hairs, just like shaving and waxing, but the good news is that there are great products to prevent ingrown hairs.
The perfect epilator model for me
Given all these features, I will try to describe the perfect epilator for me.
I gave you 11 epilator reviews. But now I want to share with you what I'm looking for. Maybe it will help you figure out what you need and want.
The best epilator for me is:
Fairly simple base unit with two speeds
Corded because the long cord allows enough freedom of movement and I have enough things that need to be charged already.
Built-in lamp
I always like epilators produced by a known brand better. An epilator never removes 100% of hairs because some are too small and I'm also not interested in models for wet environments, much better with regular ones with cord actually
The idea is that you can keep it simple and get even skin and not overpay for one.
If you can afford to spend more money and get a more expensive model, do so because you pay the money once and get to use the device for many years to come.
Innovations don't happen every year in this industry, so you won't be rushing online or to a store to get the latest. It's money spent once and may not be spent for another two or three years, at least.
Epilators - pros and cons
Can give you weeks of silky, smooth skin
Minimal running costs
Not sticky, except for the hairs you remove
Easy to travel with
Easily picks hair as short as 0.5 mm
Hair can grow back finer and less dense
Suitable for all hair types
Epilators often have extra features, such as shaving heads and exfoliators
However, it is not the ideal option for everyone as it has some disadvantages:
Higher cost in advance
May cause ingrown hairs
Not suitable for men's facial hair
May experience some discomfort, although this diminishes over time
Final thoughts - Epilation vs waxing vs shaving vs IPL laser at home: Which is better?
If you decide to use an epilator, you can never go back to shaving or spend a lot of money on salon waxing.
That's basically why I'm writing this long post about epilator reviews. But that doesn't mean epilators are the best method there is.
Each hair removal method is completely different.
I enjoy writing about epilators and reviewing them but that doesn't mean I think everyone should try these epilators.
The point is:
If you are tired of using razors once every three days and you still feel dissatisfied because after one day your hair starts to grow back, you should continue reading this article as it offers a good alternative to your problem.
Using an epilator is perfectly fine and it can change the way you feel about your body. But if you're done spending a lot of money once a month, going to salons for waxing, maybe you can save a few minutes and read this post.
Epilation is an inexpensive hair removal method but not the most effective nor the most comfortable as it is very painful and there is a high risk of ingrown hairs. (Follow our blog for tips on details you can do to make it hurt less.)
Honestly, I have tried many different hair removal methods and the best method by far is IPL laser and if you can afford about 2 000 SEK, I think you should go for it and get yourself a IPL laser for use at home.
Take a look at the epilator test
This blog post is written by Nicole Jones in collaboration with Vivre®.
---
"Best method for permanent hair removal!"
'A product that really gives you better results. Remove those unwanted hairs with laser in just a few treatments at home in peace and quiet.