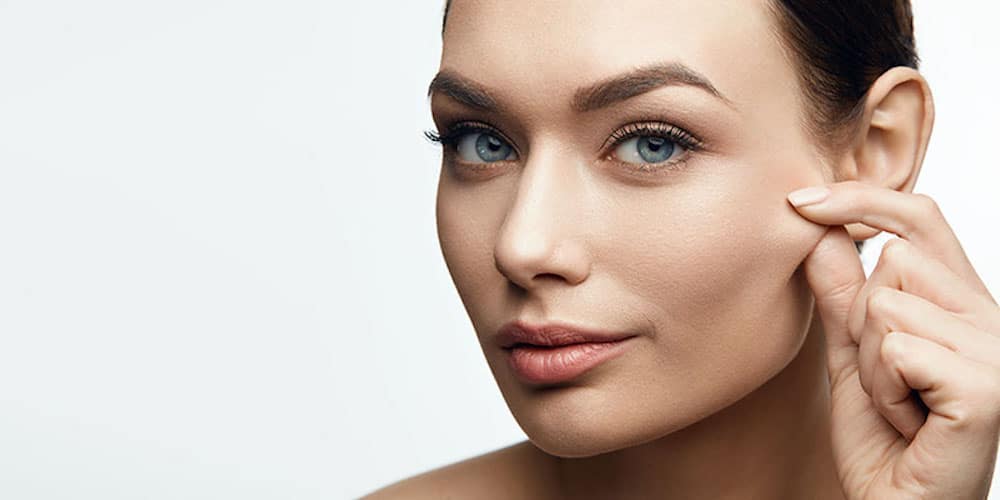 A high intensity focused ultrasound treatment, or in short HIFU treatment, is a non-invasive treatment for facial aging. This procedure is part of a growing trend for anti-aging treatments that provide a lot of benefits without the need for surgery.
HIFU is a relatively new cosmetic treatment for skin tightening and painless replacement for facelift. It uses ultrasound energy to encourage the production of collagen, resulting in firmer skin.
HIFU is best known for its use in the treatment of tumours. The first reported use of HIFU for aesthetic use was 2008.
HIFU was then approved by the Food and Drug Administration (FDA) 2009 for forehead lift. The device was also approved by the FDA in 2014 to improve lines and wrinkles in the upper chest and neck.
HIFU treatment is safe
Several smaller clinical tests have shown that HIFU treatment is safe and effective for face lifting and refining wrinkles. People could see results a few months after treatment without having to take any of the risks associated with surgery.
Although the procedure is also used for overall facial rejuvenation, lifting, tightening and body contouring, these are considered "off-label" uses for HIFU, meaning that the FDA has not yet approved HIFU for these purposes.
More evidence will be needed to find out who is best suited for this type of procedure. So far, HIFU has proven to be a promising treatment that can replace facelifts, especially in younger people who do not want the risks and recovery time associated with surgery.
These less invasive treatments have a shorter recovery period than surgical alternatives, but the results they provide are not as dramatic and are not permanent either. Because of this, dermatologists recommend HIFU only for mild to moderate or premature aging.
HIFU does not work as well for people with more severe cases of sagging skin.
In this article, we look at what the procedure entails. We are also investigating how effective it is and if there are any side effects
What is HIFU treatment?
A HIFU treatment uses ultrasound to create heat at a deep level in the skin. HIFU uses focused ultrasound energy to focus on the skin layers just below the surface. The ultrasonic energy causes the tissue to heat up quickly.
When the cells in the targeted area reach a certain temperature, they experience cell damage. Although this may seem counterintuitive, the damage actually stimulates the cells to produce more collagen - Collagen is a substance in the skin that gives it structure and elasticity.
The increase in collagen results in tighter, firmer skin, with fewer wrinkles. Since the high-frequency ultrasound beams are focused on a specific tissue site below the surface of the skin, there is no damage to the upper layers of the skin.
HIFU is not recommended for people with infections and open skin lesions at the treatment area, severe or cystic acne and metal implants in the treatment area.
Benefits of HIFU treatment
According to the American Society for Aesthetic Plastic Surgery (ASAPS), HIFU and other non-surgical alternatives to facelifts have seen a huge increase in popularity in recent years. The total number of procedures performed increased by 64.8 percent between 2012 and 2017.
HIFU has many aesthetic benefits, including:
Reduction of wrinkles
Tightening loose skin on the neck (sometimes called turkey neck)
Lift your cheeks, eyebrows and eyelids
Improve mouth definition
Tightening the décolleté
Lift sagging skin on jaws
Smooth and tighten the chest
Smoothes the skin
The type of ultrasound that this procedure uses is different from the ultrasound that doctors use for medical imaging. HIFU uses high energy waves to target specific parts of the body.
Specialists also use HIFU to treat tumors for much longer, more intense sessions that can last up to 3 hours in an MRI scanner.
The procedure of HIFU treatment
Dermatologists usually begin HIFU treatment by cleansing the selected area and applying a gel. Then they use a handheld device that emits ultrasonic waves in short waves. Each session normally lasts 30 - 90 minutes.
Some may experience some mild discomfort during treatment, and other side effects are to experience some mild pain in the area that has been treated afterwards and if you have it, you can take regular painkillers to counteract it.
Unlike other cosmetic procedures, the HIFU treatments not prepared. Once a session is over, there is also no recovery time, which means that you can continue with your daily activities after receiving HIFU treatment.
HIFU treatment VS surgery?
| | Intervention | Cost | Recovery time | Risks | Efficiency | Long-term effects |
| --- | --- | --- | --- | --- | --- | --- |
| HIFU treatment | Non-invasive; no cuts | SEK 15,247 on average | No | Mild redness & swelling | In one study, 94% of the participants described improvement in skin lift at a 3-month follow-up visit. | The same study found that improvement in appearance persisted for at least 6 months. You will probably need to have additional HIFU treatments when the natural aging process takes over. |
| Surgical facelift | Invasive procedure that requires incisions and sutures | SEK 70,000 on average | 2-4 weeks | • Risks of anesthesia • Bleeding • Infection • Blood clots • Pain or scarring • Hair loss at the incision site | In one study, 97.8% of humans described the improvement as very good or exceeded expectations after one year. | The results are long lasting. In one study, 68.5% of the population rated improvements as very good or exceeded expectations after an average of 12.6 years after the procedure. |
You may need to take between 1 - 6 sessions of HIFU treatment, depending on what results they want to achieve.
Before and after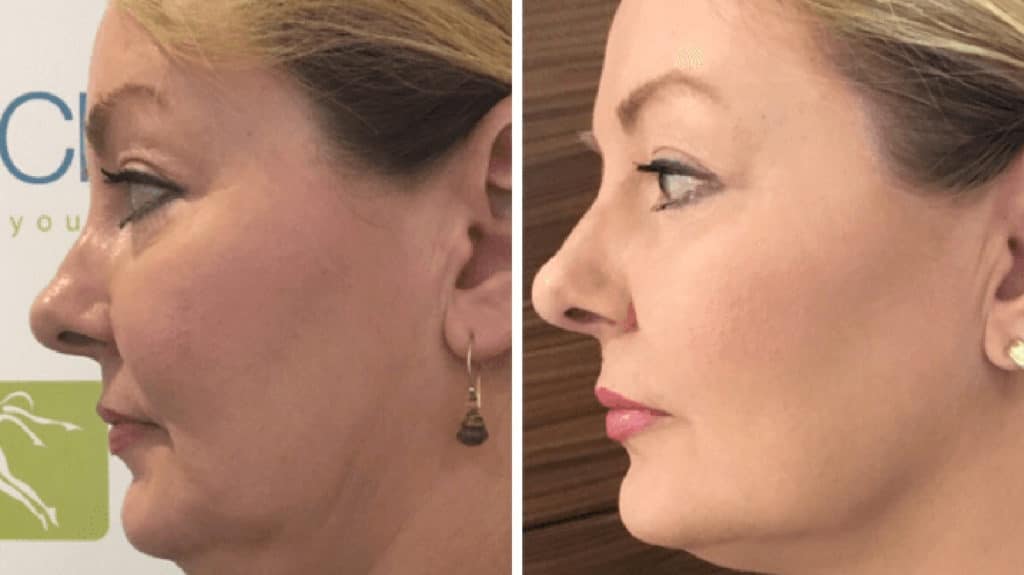 What does the research say about HIFU treatments?
Many reports and research say that HIFU treatment works. A review from 2018 looked at 231 studies on the use of ultrasound technology. After analyzing the studies involving ultrasound to treat skin tightness, body tension and cellulite reduction, the researchers concluded that the technology is safe and effective.
The American Board of Cosmetic Surgery says that ultrasound skin tightening usually gives positive results in 2 - 3 months and that good skin care can help maintain these results for up to a year.
A study on the effectiveness of HIFU treatments in people from South Korea found that the procedure worked best for improving wrinkles around the jaws, cheeks and mouth. The researchers compared standardized photographs of the participants from before the treatment with those from 3 and 6 months after the treatment.
The effectiveness of a HIFU treatment
Another study evaluated the effectiveness of a HIFU treatment after 7 days, 4 weeks and 12 weeks. After 12 weeks, the participants' skin elasticity had improved significantly in all treated areas.
Other researchers studied 73 women and two men who underwent HIFU treatments. Physicians evaluating the results reported an improvement of 80% in face and neck skin, while satisfaction among participants was 78%.
There are different HIFU machines on the market. One study compared the results of two different devices by asking clinicians and people who had undergone HIFU treatment to evaluate the effects. Although participants reported differences in pain levels and overall satisfaction, the researchers concluded that both devices were effective in tightening the skin.
It is worth noting that each of the above studies involved only a relatively small number of participants.
Side effects of HIFU treatment
In general, evidence suggests that a HIFU treatment has few side effects, although some people may experience mild pain and discomfort immediately after the procedure.
The South Korean study concluded that there were no serious side effects from the treatment, although some participants reported:
Swelling
Numbness
Redness
Bruises
Minor rash
In another study, researchers found that while some people who had HIFU treatment in the face or the body reported mild pain immediately after treatment, after 4 weeks, they reported no pain at all.
Another study showed that 25.3% of the participants had mild pain after the procedure but that it improved immediately without intervention.
The cost of HIFU treatment
The American Society for Aesthetic Plastic Surgery states that the average cost of a non-surgical skin removal procedure, such as HIFU, was $ 1,707 (approximately $ 15,247) in 2017.
However, the cost of HIFU treatment varies depending on the location and number of sessions.
Summary
A high-intensity focused ultrasound facial, or HIFU treatment, can be an effective way to minimize signs of aging.
As a non-surgical technique, HIFU treatment requires less recovery time than a surgical facelift. Nevertheless, researchers have found that the procedure can make sagging skin firmer, smooth wrinkles and improve skin structure.
With good aftercare, the benefits of a HIFU treatment can last for about 1 year.