There are many who have questions about Veet hair removal cream, here I share my experience of the product and hope that you, the reader, can get answers to your questions.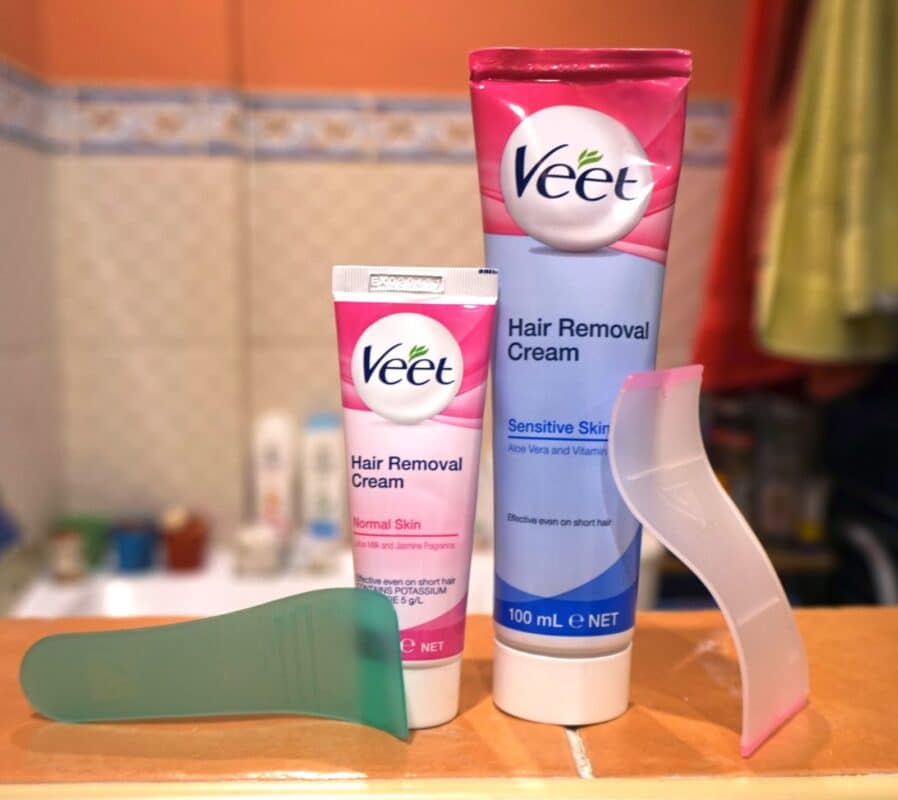 I don't have very hairy legs, thankfully, so I don't have to do any kind of maintenance on that part apart from cleaning and applying lotion to it.
The hairs on my legs are thin and not many, so I thought they were OKAY and I never really thought about removing them. But curiosity made me do it anyway.
I once wondered what my legs would feel and look like without hair, so after I took a shower I just took a razor and shaved it off. Afterwards I felt my legs and they felt super, duper, mega smooth.
My legs had never been so smooth before so from then on shaving my legs became part of my weekly routine.
But it got too boring for me somewhere along the way; I realised that my long skincare routines were now even longer because the hair was growing back so fast, so I also needed to shave it more often.
Then I tried DIY waxing, but I'm not really good at it and it's more tedious than shaving because of the tons of stuff I have to prepare each time. I'm not so keen on expensive electronic depilatory tools and not treatments at different clinics either.
DIY waxing
Despite the challenges of having smooth, hair-free legs, I still wanted it hair-free anyway, but I wondered: could there be an easier way to achieve this?
Advertisement:
Vivre IPL presents a new technology for laser hair removal at homewhich has revolutionised hair removal, which makes traditional methods of removing unwanted hair such as shaving, plucking, waxing and epilation obsolete.
And then I remembered that I had VEET hair removal creamthis hair removal cream that promises to remove hair quickly.
I think you've all heard of this product before I did, but I've only tried it recently.
I decided to try it because my legs were looking a little fuzzy and after just 10 minutes I had silky smooth legs. It's super fast, safe, affordable, effective and it made me feel like my leg hair was professionally removed!
Veet hair removal cream for sensitive and normal skin in detail
VEET hair removal cream works close to the root to give you soft skin. The formula contains natural extracts to soothe the skin immediately after hair removal. VEET hair removal cream in three variants: dry skin (with shea butter and lily fragrance), normal skin (lotus and jasmine fragrance) and sensitive skin (Aloe Vera and vitamin E).
The ones I have are the variants of VEET hair removal cream for normal skin and for sensitive skin. I chose to use the one for sensitive skin because I assumed it had the mildest formulation, therefore it was perfect for a first timer like me.
I also tested it on my upper thigh to be extra safe as it is a part that is easy to hide if an unwanted incident were to occur.
If you are ever going to use this product in the future, I recommend that you do the same as well for safety reasons. Also keep the package as it has everything you need to know to use the product safely. Follow the instructions that come with it and always remember that your safety is in your own hands.
Both sizes have their own spatula, but I think the smaller tube is better suited to smaller body parts like the armpit, feet, chest and arms just because the spatula is quite small.
VEET hair removal cream has a rich, white-coloured, creamy texture, but it has a sharp ammonia-like smell that actually reminds me of hair dye. Good thing the smell isn't that strong and it's not bothersome unless you smell it thoroughly (which I won't advise you to do!). Whew!
Now let's test this VEET hair removal cream!
The first body part was my legs. I used VEET hair removal cream for sensitive skin in this attempt. The cream felt soft and I didn't feel any burning, stinging or itchy sensation upon application.
I spread VEET hair removal cream on my legs in a quick way while trying to cover each part evenly. Before using this product, it is better to plan how and where to distribute it so that no area is left without cream.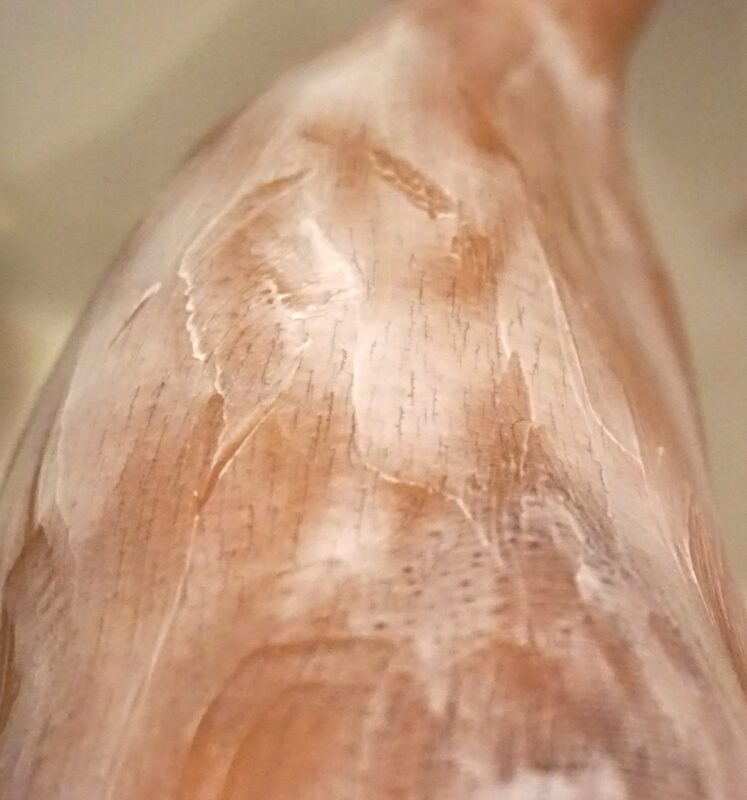 I used the back of the spatula. I didn't use my fingers or hands for safety's sake.
Here's a close-up of my hairy legs! According to the instructions, I should leave the product on for 5 to 10 minutes.
After 5 minutes I removed some of the VEET hair removal cream.
I figured the cream probably still needed more time to dissolve all of mine hair; so I left it on for another 5 minutes - so in total the cream was on for 10 minutes. According to the instructions, the product should not be left on for longer than 10 minutes as it can burn the skin.
When using VEET hair removal cream, keep time in mind or better yet, use a stopwatch/timer as a guide. Because a small mistake can damage your skin, especially since it has a strong formulation. Watch out for any kind of discomfort or irritation while using the product.
Wash off the product immediately with water at the slightest irritation of the skin and do not put anything on the affected area and clean it with a very mild soap only during the next three days. Visit your dermatologist immediately if a rash develops after use.
After 10 minutes I quickly scraped off the cream
After 10 minutes, I quickly scraped the VEET hair removal cream off the legs and rinsed the residue off the skin with cold water. There were some stains that still had hair, but that was enough for me now.
Also, I didn't have more VEET hair removal cream to get rid of the last hair spots; nor can you put on more VEET hair removal cream right after. Because it is not recommended thenyou may end up burning your skin.
Use cold water when rinsing off VEET hair removal cream and using hot water on the newly treated area may irritate it.
Apply a mild moisturiser to the treated area after using VEET hair removal cream to prevent dryness and exfoliate it after 24 hours and to prevent ingrown hairs. Give the skin at least 72 hours before using this product again.
Now where did all the hair go? 🙂 This product works close to the roots. It made my legs hair free and I felt like I just had a new pair of waxed legs because they were super smooth!
I just had a small problem
I had only one small problem with this product and that is that I developed some red spots on the shin areas immediately after use, but they disappeared after an hour, thankfully. This is why patch testing is important.
It's been two weeks since I used this product and although I already have some regrowth, my legs still feel ok. As I said, the 100 ml tube can be used for at least 2-3 uses for half leg removal and 1-2 uses for full leg removal, at least on me. VEET hair removal cream will be more affordable than waxing.
But what about the long term? Which of these treatments will save you the most? That would be IPL laser treatment at home, my dear readers. Because you get a permanent solution and relatively cheap. With a IPL laser for home use, you get almost the same effect as in salons for a fraction of the money. Take a look at the Vivre IPL laser here. Vivre IPL offers one of the best IPL on the market at the lowest price.
Product information for VEET depilatory cream
In conclusion, I bring you a product description of VEET hair removal cream used by several major online stores:
Get light-touch skin for up to twice as long as you shave with VEET hair removal cream.
Unlike shaving which can sometimes dry the delicate surface of your skin; VEET hair removal cream's new formula contains Hydro'Restor™ ingredients that can help restore skin's moisture levels.
VEET Hair Removal Cream's new formula is designed to work close to the root of the hair. So your hair takes noticeably longer to grow back and your skin stays softer for longer!
Specially designed for sensitive skin, its formula is enriched with Aloe Vera and Vitamin E to ensure maximum respect for your skin.
Veet hair removal cream for sensitive skin has been specially designed to give you sumptuously smooth skin in just 5 minutes.
Enriched with aloe vera and vitamin E, it also contains Hydro'Restor ingredients proven to help restore hydration levels in the skin's upper layers.
That means it helps avoid embarrassing rashes, lumps and bumps and leaves even sensitive skin beautifully moisturised, touchably soft and softer for longer than shaving.
Suitable for use on legs
Suitable for use on legs, arms, underarms and even bikini areas, each dispenser contains enough cream for about four applications.
Quick and easy to use - simply cover the desired area with VEET Hair Removal Cream (without rubbing).
Leave on for 5-10 minutes and rinse off using the Perfect Touch spatula, which helps to pull away loose hairs for perfectly smooth skin.
VEET hair removal cream has a number of advantages over shaving: there is no risk of cuts and the hair takes longer to grow back and, when it does, is softer than shaved hairs.
This is because razors cut off the ends of the hair, leaving sharp edges that are in line with the skin and become exposed within a few hours, resulting in a knotty feel.
Conversely, VEET hair removal cream dissolves the proteins that make up the hair, leaving smooth rounded hairs just under the skin that take longer to be exposed and feel softer when they do for a sensual softness that lasts.
VEET hair removal cream is the leading name in hair removal products; with over 80 years of experience in developing safe, effective and innovative solutions to the problem of unwanted body hair.
Our hair removal products are successfully used by over 30 million women worldwide every year, and our skin health research is validated by the British Skin Foundation; so you can be sure that our hair removal products work well, are easy to use and above all are safe.
How to use the cream
STEPS TO BEAUTIFUL TOUCHABLY SMOOTH SKIN.
Use in empty bathtub or shower or on tiled floor to spill on carpet, floor and clothes.
Remove the plug from the pump and turn counterclockwise to unlock. Make sure the area you want to remove the hair is completely covered with cream.
Leave VEET hair removal cream on the skin for 5 minutes, adjusting carefully, then use the spatula head gently to test a small area. If the hair comes off easily, remove the rest of the VEET Hair Removal Cream with the spatula.
Use the spatula's flushing edge. Use the smaller edge for more curved areas such as the bikini line, underarm, knees and ankles.
If you feel you have more stubborn or thick hair, we recommend leaving VEET hair removal cream on a little longer; up to but not exceeding 10 minutes in total. Rinse your skin thoroughly with water after use and dry.
Rinse the nozzle and spatula thoroughly after use. Replace the plug after each use.
Hazards and precautions
Keep VEET depilatory cream out of the reach of children. Avoid eye contact. In case of contact with eyes, rinse immediately with plenty of water and seek medical advice. Contains alkali and thioglycolate.
VEET hair removal cream Ingredients
Aqua, Cetearyl alcohol, Paraffinum Liquidum, Potassium Thioglycolate, Calcium Hydroxide, Ceteareth-20, Talc, Glycerin, Perfume, Polyethylene, Sodium Gluconate, Aloe Barbadensis Leaf Juice, Hexyl Cinnamal, Linalool, Citric Acid, Potassium Bensorate.
Summary
In conclusion, I have had a pleasant experience with VEET hair removal cream. It is easy to use, and I appreciate that the instructions are very easy to understand that even an eight year old can follow it.
If you want to fight unwanted hair anytime and anywhere without spending too much time and money, VEET hair removal cream will be your best friend!