Philips Lumea IPL is a series IPL from Philips consisting of Lumea Essential which is their simplest model. The mid-range model is called Lumea Advanced and the most advanced model is called Lumea Prestige.
We have chosen to take a look at the Philips Lumea Prestige IPL which is then as said their best IPL and most expensive.
Does Philips Lumea IPL work?
I googled this question a lot before I bought my Philips IPL and I couldn't really get a straight answer. So I decided to go ahead, buy one and write a Philips Lumea review myself.
It has taken me over a year to write this. Not because I'm lazy ... or because I was sitting at home marveling at my silky smooth legs. It's because my review was quite negative at first and I wanted to give the Philips Lumea some more time before coming to a conclusion.
Philips Lumea IPL- the short answer
If you're impatient and want the nutshell version of whether Philips Lumea IPL works; my best "sum it up" answer is: yes, but not as good as you probably hope or expect.
I know, it's not the most useful answer. But if you keep reading my detailed review below, you'll understand why.
For me and many others who have tried the Philips Lumea IPL, this is one of those typical products that has a list of pros and cons.
Whether it's worth buying or not depends on your specific needs, so let's dig into this a bit and try to sort it all out.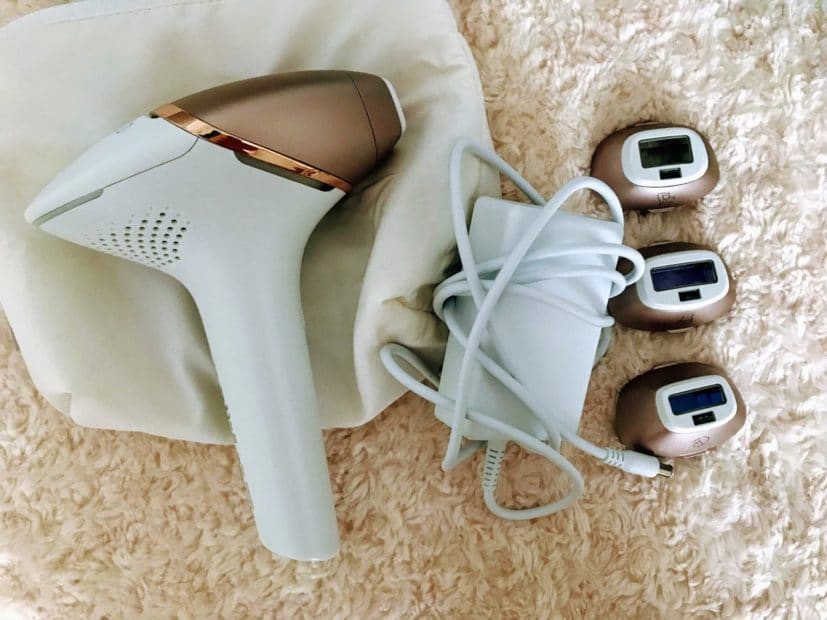 Should you really buy Philips Lumea IPL? My answer leans towards a yes as it has reduced my body hair significantly and for a year it has paid for itself compared to waxing. There are a bunch of other benefits too.
But will it leave my body completely hair-free? The answer is no. However, no at-home hair removal IPL will do that. And any promotional material that says otherwise tells big, fat hairy lies.
Now for the review. I will not go into what IPL hair removal is for something or the fact that it can only be used by people with certain skin tones and hair colour. I guess you already know that.
Philips Lumea IPL in detail
Warning: I'm getting personal. I have used my Philips Lumea IPL on my legs, underarms and bikini area. Referring to the latter; and my results over the hair removal of the intimate area may make some conservative readers a little uncomfortable. I apologise and hope you can skim read the bits that make you squirm.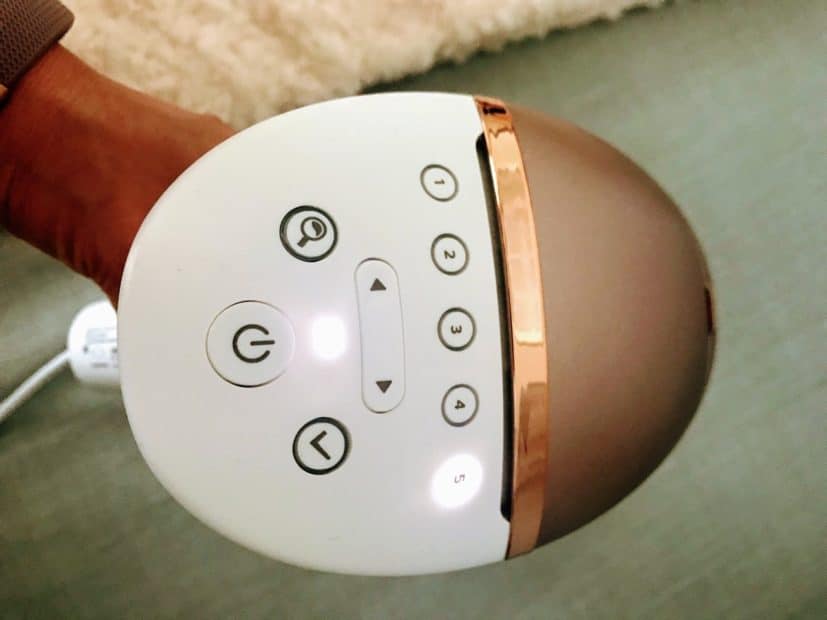 Why I wanted to try IPL at home
Because I'm fucking hairy. That's what I said.
Sure, I'm British but I'm dark hair and it gets darker the further south you go, if you know what I mean.
I travel too. A lot. Sometimes for months at a time. And usually to places that are hot, hot, hot. So I don't tend to wear a lot of clothes when I travel. Not in 30-40 degree heat. No, no!
Add to that the fact that I often travel to developing countries or countries where I don't speak the language and you can begin to understand why it's a challenge to get hold of a regular wax.
Not convinced?
Here are some of my worst experiences with waxing and hair removal abroad:
Watched a lady waxing my legs and she put the used hot wax back in the pot after she pulled it from my legs in Bolivia.
I had open sores from the mosquito at the time. After this experience, I have had years of worrying there that I might have a contagious disease every time I had some kind of cold or flu symptoms.
Was waxed with strips in India. It would have been cool if it didn't use worn strips.
I was in the same room where a friend was waxing his butt. The wax was pulled from her bottom with sheets of A4 paper. (Cambodia).
How about professional IPL laser treatment?
I'm probably in the same boat as the rest of you - I'd have no problem going to a professional IPL laser treatment. If someone else would pay for it.
I researched the price of professional laser hair removal before I bought my Philips Lumea and it was a huge cost difference. The IPL laser cost per area is about 5 000 SEK. It would be about 15 000 - 20 000 SEK to treat my legs, bikini line and underarms.
It is worth noting that the professional IPL price is for a limited number of treatments (8 sessions). Which means that any additional treatments at an extra cost are likely. And most importantly, they still don't promise to make you completely hair-free. In fact, I can only expect a maximum of 90% hair removal after treatment.
Compared to a Philips Lumea for around SEK 4,000, which also does not promise complete hair removal... you can in any case use it for about 3 years before the laser pulses run out. Therefore, it was a matter of course to choose Philips Lumea instead laser treatment in clinic.
Choosing the best IPL laser hair removal for home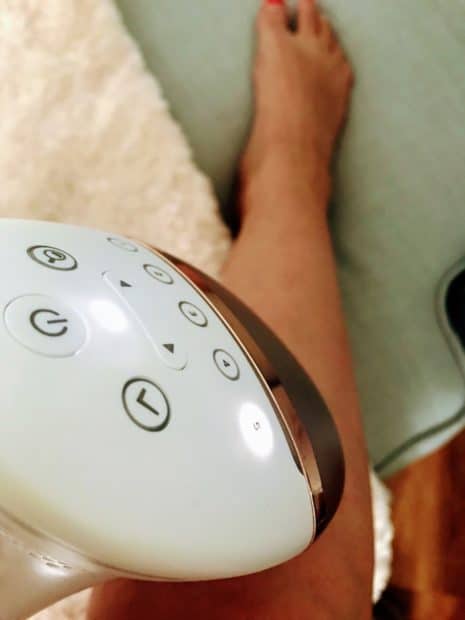 It is probably fair to say that Philips Lumea is the market leader in IPL hair removal for home use. Naturally, I did my research and even considered buying the cheaper Braun product, as it was another brand I had heard of. But it was just a bit cheaper and the Philips Lumea reviews tended to suggest that it worked better.
I'm also a fan of Philips products more generally. I have my neon lights everywhere in my house ('Alexa, turn off the bedroom light ... because I'm too lazy to get out of bed') and I use the Philips USB charging toothbrush when I travel. I've always found Philips products deliver better compared to cheaper alternatives I've tried.
What about the much cheaper IPL machines?
Philips Lumea didn't make me as permanently hair-free as I hoped, despite being considered "the best IPL machine for home use". If Philips can't make it all go away, would I go for a machine at half the price that won't do the job better?
Your expectations of IPL laser
So what's the point of paying 3,000, 5,000 kr for a Philips Lumea if it won't make you hair-free?
That was my biggest thought when I was trying to decide if I should buy a Philips Lumea or not. But here's the thing, even if you spend SEK 30,000 for a professional laser treatment out in the clinic, it won't remove everything hair permanent.
So it's important to reset your expectations. Doing IPL is not about becoming 100% hair free. It's about reducing your hair thickness and growth to a more sustainable level. I have a good, long list of positives with IPL coming - focus on them. And also compare IPL to your current hair removal system. I can almost guarantee it will be better, easier and cheaper in the long run.
My Philips Lumea IPL experience
The quality of Philips Lumea
Once you take the Philips Lumea IPL out of the box, you get a sense of high quality - sleek, ergonomic looking and, best of all, a neat bag to put everything in and keep the various attachment heads secure.
I tend to pack very light so overall the Philips Lumea IPL is too big and heavy for me to take on my travels, which means I still have to plan my IPL sessions so I can be at home, but for most people that won't be a problem.
Philips Lumea instructions
The instruction manual is terrible. In fact, I think my car manual is both shorter and easier to understand with fewer safety warnings.
Thankfully, there is a free app that is much more user-friendly.
Out of the box, it took me less than 5 minutes to get ready and ready to use the Philips Lumea IPL.
The idea is to provide smooth and consistent light pulses during the initial phase and then move into a maintenance program.
The initial phase takes about 4-5 sessions every two weeks. So about 8-10 weeks assuming you're diligent, which I was - because I wanted those hairs to disappear.
The science behind the initial phase is that each follicle has two hairs and they grow at different rates. I knew this from years of waxing.
IPL maintenance phase
You should then give yourself a "top-up blast" every 4-8 weeks to keep the hairs out.
Was it easy to use Philips Lumea?
The machine itself I would give a 9/10 on ease of use.
Turn it on and select the right head (each one corresponds to a body part with handy pictures).
Go to "inspector" mode and hold the machine's head over your body part so it can choose a setting that's right for your skin and hair colour in that area.
Press the button and direct the light pulse to the area. You can do this by pressing the trigger to start, then moving to the next area and pressing again. For larger areas like legs, you can hold your finger on the trigger and just move your head over the legs.
When you're done, switch your head to the next body part, do the inspection to get the right intensity and run again.
Tips:
You don't need a white pen to mark the areas - it blocks the laser (I mention this because there are lots of articles about it on the web).
Is Philips Lumea IPL painful?
Answer - both yes and no. On my forearm I felt zero pain. On my legs there was very little. I didn't think it was that bad ... on my legs. But my God, it hurt down there. Must also add that Vivre IPL did not hurt at all anywhere on the body.
Now I may be doing this against all sensible advice, but I was trying to achieve a Brazilian bikini wax effect so I used IPL all over (but certainly not on the inner areas that you can get wax into. But definitely on my labia or lips if we're being less formal).
The level of pain around my thighs and upper front of my private parts is not too bad but when I start to track further down, the pain intensified dramatically. Or at least I can liken the pain to being snapped by an elastic band, but the kind of band that is as wide as a car and has been snapped from about a mile away.
A word about preparation before use. You must remove all hair from the area you intend to treat before doing so. If you don't, not only is it less effective, you'll smell a lot of burnt hair.
(Do you really want your neighbors to smell something burning and call the firemen while you're wearing a backwards g-string and pointing a gun-like machine at yourself?
I use a cheap bikini trimmer before I use Philips Lumea. For my legs and forearms, I use a regular old disposable razor.
How long does IPL take?
The Philips Lumea was very easy to learn how to use and after a few sessions it would take me:
5 minutes to do both armpits.
Under 5 minutes to make my bikini area
For 10 minutes for each lower leg.
So definitely under 30 minutes to do those areas including setting up and putting away the IPL.
"Best IPL on the market right now"
Vivre® IPL can simply be described as the most innovative, cost-effective and practical laser hair removal system at home.
Does Philips Lumea work?
And we are now completely back to the summary at the beginning.
Does Philips Lumea work?
Answer: yes and no.
If I had written this review after the initial treatment, it would have been filled with comments "waste of time, waste of money". Because I was really disappointed then. My hair growth was the same after the use during the first round.
I knew it was too late to send the Philips Lumea IPL machine back, so I decided to give it a full chance. And that's when I started to see results.
I don't know if I'm harming myself by using Philips Lumea (hopefully not and nothing has happened to my skin in the year I've been doing this) but I think a few "initial treatment rounds" are required to really have a noticeable impact on your hair.
There are whole, large areas on my legs that are now completely hair-free. Too bad it can't remove my veins too.
I imagine the results will vary from person to person and body area to body area, but after three initial treatments with breaks in between (some caused by lack of motivation, some due to travel), my hair reached a point where it was noticeably patchy.
After the initial treatments, my armpit hairs have become so few that my friends actually say they can't see anything at all, even though I'm paranoid and can point out something invisible. And when I had my legs professionally waxed for a wedding, the waxing lady joked about my legs, "there's nothing to wax".
There are still a few small areas where hairs are still growing but it will be a few weeks before they are noticeable enough for me to do anything with them.
Overall, it was a pretty significant result.
Do I have to continue with IPL even after I have become hair-free?
My forearms are virtually hair-free. I took this photo recently and really can't remember the last time I shaved. I would say weeks ago.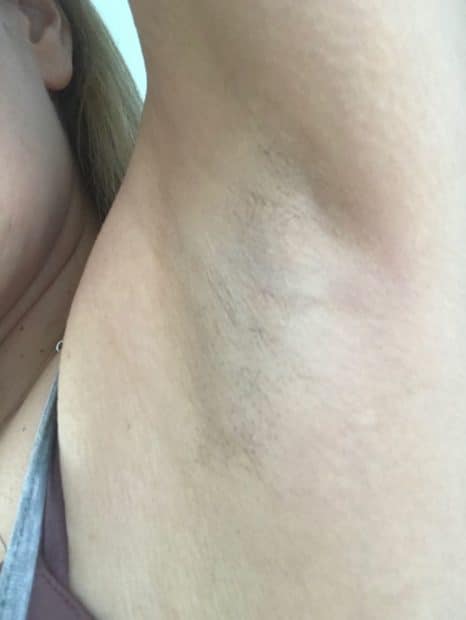 Let's be honest, we all have a million other things to do besides hair removal. Which is one of the reasons we want to use IPL in the first place. But here's the thing - with both IPL at home and professional IPL, maintenance is required.
Months went by and I was 100% sure that I have got rid of all my hair permanently but noticed after a few months that my hairs slowly but surely started to come back. I shaved, and waxed the hairs that grew back but especially in the winter I couldn't bring myself to stand in the cold and use my Philips Lumea. And the hairs did come back. Not quite as strong as they had been in the past, but enough for me to decide it was time for a new initial phase - because I had skipped the entertainment that would have been required to keep any hairs from coming back.
I was a little frustrated with myself. If I'd had the energy and used the Philips Lumea IPL for just 30 minutes once a month, I'm sure I could have kept things more under control. As it was, I wasn't back to where I once started with IPL. At least I had reduced the hairs so now I had a lot less to work with, but I had to do the first 8-10 weeks again.
It's easy to see this as a disadvantage - the usual maintenance - but at the same time it's a big plus that the machine is already there and paid for and ready to use. I would have been very furious if I skipped the maintenance on a £30,000 treatment and started seeing the hair grow back with vigour.
Is the Philips Lumea app any good?
Unlike the manual, the app is perfectly fine. It is also used to remind you of your next IPL session to keep you on track. The problem arose when I skipped a session and I couldn't see how to change the date (and therefore change additional dates).
Now in hindsight I've figured out that you just go in and hit 'start treatment' and it logs the new date for you. So simple, eh?
I find the app a bit frustrating - it's useful the first time because it tells you what to expect, what to do and gives you some words of encouragement for your treatment journey.
But when you do your third treatment, you don't want to have to push through 6 screens for each body part just to record it. If you're organised enough, just use the calendar after the first few sessions.
Philips Lumea pros and cons
Benefits of Philips Lumea
It thins and actually removes lots of hairs, which shaving definitely doesn't do and it takes too long to do with waxing.
I can go weeks, even months without thinking about my leg hair.
It is significantly cheaper than professional IPL laser treatment in clinic.
Using IPL is faster than going to a laser clinic or waxing in a salon.
It is faster and therefore less painful than waxing.'
There is no swelling or rash after waxing. (assuming shaving doesn't trigger it for you)
I definitely got my money back compared to the cost it would have been to wax at the salon.
Disadvantages of Philips Lumea
It's not painless
It is not 100% effective
It takes perseverance - for months and even years
You must remove the hair before using it.
It is less effective on the bikini area compared to the legs or forearms (or at least it was for me)
Is it really suitable for the more intimate parts of the bikini area?
The leg attachment does not fit well for legs.
You'll never feel so smooth afterwards compared to having waxed.
There are certain areas to avoid - scars, moles, varicose veins
So here is my Philips Lumea review.
Comment: Philips Lumea IPL works just fine, but keep in mind that a large part of what you pay is because the brand name is Phillips and well known.
Vire strongly recommends that you test VIVRE® IPL risk-free for 90 days and compare it yourself to Philips Lumea.
We are so sure that you will choose Vivre IPL after you've tried it! LIVING® IPL costs half as much but you get the latest IPL technology and more advanced features that mean more effective and easier IPL hair removal for you.
Comparison: Philips Lumea Prestige VS Vivre IPL Pro
Error validating access token: The session has been invalidated because the user changed their password or Facebook has changed the session for security reasons.