Do you wish to remove hair permanent? Unwanted body hair is a nuisance for both men and women. Many of the faster methods for hair removal, such as shaving or using hair removal creams only helps for a day or two. The other options that last a little longer; like waxing and threading, leaving you with painful and unattractive ingrown hairs, with hair which grows back within a few weeks.
In addition, salons are gradually increasing their prices making these long-lasting methods of hair removal more expensive over time.
Many men and women are now turning to sustainable, permanent methods of hair reduction and removal instead.
To help you decide whether permanent hair removal of the body's unwanted hair just right for you; we will discuss the different options and see which methods can be done without even leaving your home.
Remove hair permanently at home by laser removal
Laser Hair Removal has grown in popularity since it first became commercially available in the 1990s. It can achieve permanent hair removal in as few as 3 sessions, although different hair types and skins have different requirements.
Laser Hair Removal works by directing a concentrated beam of light into the pore that is absorbed by the hair, which has a pigment called melanin.
The light energy absorbed becomes heat energy and warms up the hair.
This heat causes damage to the hair follicle, which can cause the follicle to stop growing hair.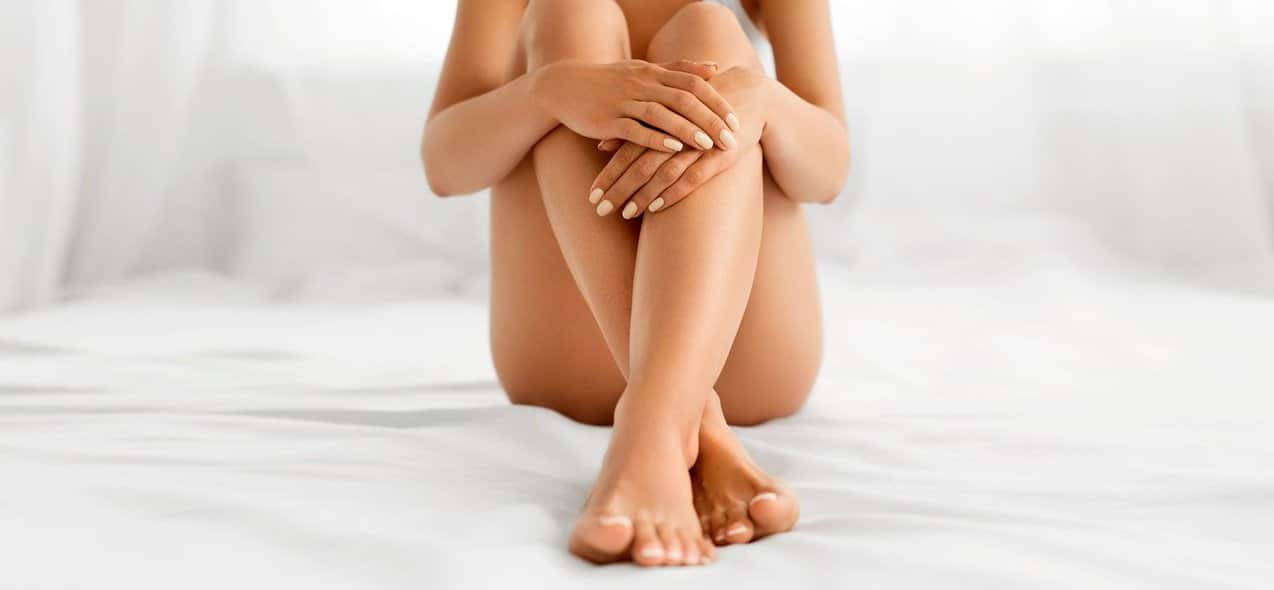 This method is extremely effective, but it is important to understand that because hair grows in cycles, not all hairs respond to laser therapy in the same way. Therefore, it usually takes several sessions to treat all hair follicles successfully.
Unlike waxing and epilation, the laser hair removal not to have immediately noticeable results as it may take a few weeks for the dead hairs to fall out.
Laser Hair Removal in clinic can be expensive. Clinics charge around 10,000 SEK for 8 sessions to treat smaller areas such as the forearms.
This may prevent many people from trying the treatment, but an alternative to salons is to buy a IPL laser for home use to remove hair permanently.
VIVRE® IPL, for example, can be purchased at a fraction of the cost, and you can use it on anywhere on your body just like at a salon salon. You can treat your entire body for a lower cost than you would pay for a single area like at the clinic.
IPL laser to remove hair permanently at home
IPL similar to laser hair removal. It stands for Intense Pulsed Light and uses the same principle of using light to heat up hairs, causing damage to the follicle to prevent hair growth at the root.
However, instead of using laser light to heat hairs, it uses a broad spectrum of light that is less focused.
This may mean that more sessions are required to destroy hair growth, but despite being less targeted; achieves IPL still great results, with many happy users.
In many clinics IPLtreatments are often cheaper than laser hair removal, but you may need more sessions which is not as cost-effective.
One option is to buy your own IPL hair removal device, which costs much less than a clinic treatment and can treat all the same areas.
Like laser hair removal, IPL doesn't require hair to work, so you can shave between sessions without compromising the effectiveness of the hair removal.
For best permanent removal results we recommend VIVRE® IPL.
Permanent hair removal for face and intimate areas
Both the face and the bikini/brazilian region of the body has skin that is more sensitive. Therefore, it is worth taking more time to consider which method of hair removal is best for you.
Waxing is not a permanent hair removal solution, but it does provide immediate results and is a popular choice for the bikini line. However, this region is particularly prone to ingrown hairs and folliculitis, which is an infection of the hair follicle.
If you're going to wax your bikini line, it's a good idea to buy some tea tree oil or witch hazel, both of which have natural antiseptic and anti-inflammatory properties, which can minimise the risk of these side effects.
As a permanent option for bikini line hair reduction, consider laser- or IPL hair removal. It is long lasting, safe and affordable if you buy a kit to treat yourself at home.
Is there a way to achieve permanent hair removal naturally?
Men and women are often keen to find natural, alternative solutions to problems such as unwanted body hair. This may be because they are worried about using chemicals on their skin and because they want to know exactly what they are using on their bodies.
Permanent natural hair removal for men and women
Some natural hair removal methods can remove hairs, for example, you can make your own wax mixtures by heating sugar, water and lemon juice and using it instead of commercially available wax or wax strips.
Knowing exactly what is in the substance of the wax/cream you intend to use is a great advantage because you know there are no environmentally damaging chemicals.
It can work out much cheaper than buying wax; and you often have the ingredients in the cupboard anyway and the technique is suitable for both men's and women's hair. However, this is not a form that a permanent hair removal, it is a long-lasting but temporary solution just like waxing.
Ayurveda, is it possible to remove hair permanently or is it just a myth?
Ayurveda is a form of medicine that originated thousands of years ago in India. It is a mind-body health system that is one of the world's oldest holistic healing systems. It is based on the belief that health and well-being is a balance of mind, body and spirit, promoting good health rather than fighting disease.
Ayurveda has a few different methods that claim to achieve permanent hair loss; including the use of various mixtures such as turmeric, flour, tea, oil and potato-based mixtures.
However, methods such as these are unlikely to achieve permanent hair removal, and although there are many suggestions for different methods of hair removal, there are few people who have used them with good results. Many of the methods proposed for the face are bleaching methods that lighten hair but do not remove it.
Permanent hair removal
The best options to remove hair permanently at home are those that focus on preventing hair growth from the root. Tropical creams, oils and blends used on the skin may help to lighten hair and at best remove hair but they will not prevent its regrowth.
Error validating access token: The session has been invalidated because the user changed their password or Facebook has changed the session for security reasons.