Facts about hair removers laser with intense pulsed light (IPL)
As for options for practical, long-term hair removal there are a few options available. Depilatory creams, laser treatments in a clinic and intense pulsed light treatments (IPL) often promises long-lasting results. Painful options like tweezing and waxing often prove to be a quick fix but are not ideal as a permanent solution.
Here at Vivre® we offer solutions for IPL- laser hair removal at home, as our IPL laser hair removal.

Here are some facts about IPL treatments: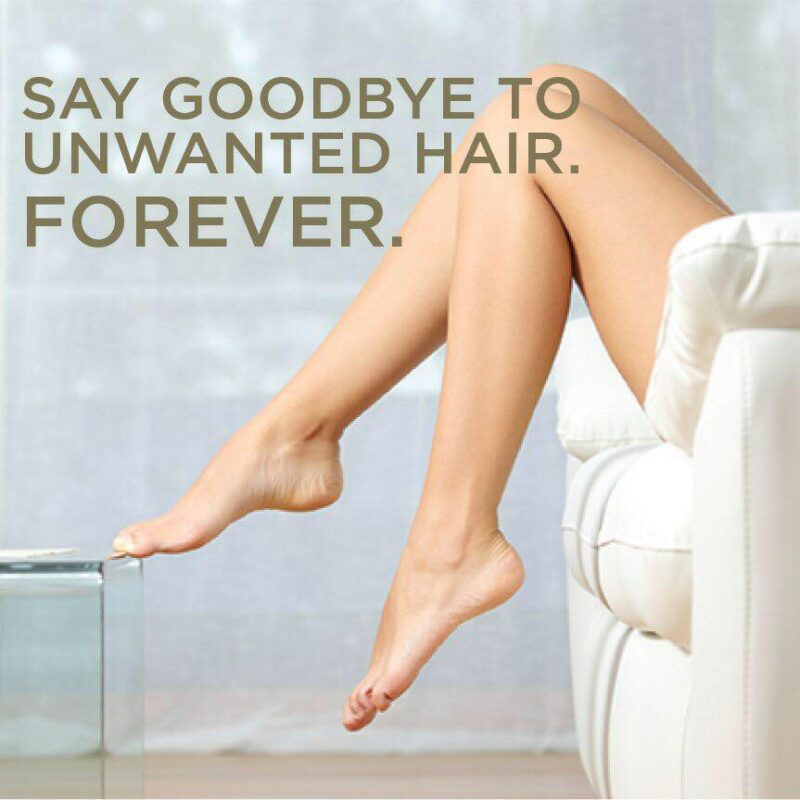 1. IPL treatments
Intense pulsed light treatments use a range of different wavelengths of energy (light), as opposed to some laser treatments which only use one or a specific range, this allows IPL treatments to be more effective in that it targets the hair while using less energy.
2. IPL, hair removal laser precisely targeting the hair follicle
The simple process by which IPL hair remover laser works is that by applying the energy to the hair follicle in the form of light, the hair follicle is heated and affected by the exposure. D
This causes the hair follicle to release the hair; with repeated treatments, the hair becomes finer and eventually stops growing.
3. IPL is a long-term solution for permanent hair removal.
Unlike some other hair removal tools that you can use at home, the IPL hair removal laser is designed to prevent body hair come back.
Shaving and waxing remove hair in the short term but does not prevent it from coming back. Even so, with repeated treatments of IPL, you can expect to see less and less hair growth over time.
4. You can use IPL hair remover laser on anywhere on your body.
Whether you have unwanted facial hair or hair in smaller, harder to reach areas, or perhaps more sensitive areas like along your bikini line, you can use our IPLlaser hair removal.

You can even perform a full-body treatment in as little as 30 minutes with our IPL unit and expect to see long-lasting results!
You can even use Vivre® IPL hair remover laser to replace it with your bone shaving routine.
5. Laser hair removal is completely safe and painless. Unlike shaving.
Laser hair removal is safe and painless. Unlike shaving, tweezing and waxing; which carry the risk of infection or the development of ingrown hairs, the Vivre® IPL described as a warm feeling on the skin.
Unlike the previously mentioned hair removal methods, it does not leave the skin feeling dry or irritated after the treatment.
It can help reduce the risk of ingrown hairs.
Have you had problems with ingrown hairs in the past? If so, you can say goodbye to it! IPL treatment does not cause ingrown hairs and may even prevent them.
This is in stark contrast to the methods mentioned above, which actually increase the risk of ingrown hairs and all the discomfort that goes with them.
7. It's fast!
You can use our Vivre® IPL for IPL hair remover laser at home to complete a body treatment in as few as thirty minutes.
Of course, site or area-specific treatments can be carried out in a fraction of the time, but a full-body treatment takes only half an hour and only needs to be carried out once a week to see results. It usually takes 3 to 4 weeks to see visible results.
Vivre® IPL
Our IPL hair remover laser has been designed specifically to provide the benefits explained in the post. That said, not only is it an effective and convenient solution for hair removal all over the body if you so desire, but it is also completely painless and safe to use.
Vivre® IPL covered by 100 % satisfaction guarantee and 1 year warranty. If you're not happy with the results, you can send it back for a refund, although we're sure you'll love it.
Just like our thousands of satisfied customers all over the world. If you have any questions, you can find more information on our website or send an email to kontakt@Vivre.cc.