From Jennifer Aniston to Jennifer Lopez - it seems that some celebrities don't age! Given the resources they have, they have the upper hand when it comes to ageing. With the help of professional dermatologists, doctors and other medical experts, these celebrities can turn back the hands of time and stay youthful well into their 40s, 50s and even 60s.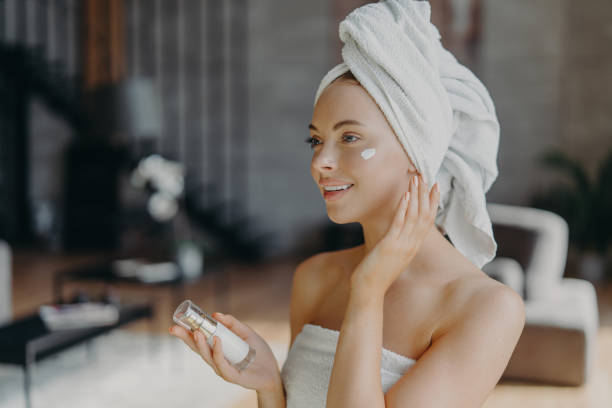 While many of these celebrities undergo treatments and procedures that many people can't afford to keep them perfect, many of their anti-aging procedures actually work and can be applied to anyone.
What causes visible ageing?
As you get older, your body slowly starts to take longer to function. From cell turnover to exercise recovery, key functions that keep us looking young begin to slow down. This leaves signs of aging that wrinkles, fine lines, fatigue and more. Although it is impossible to stop aging completely, there are some things that can speed up this aging process, such as:
Smoking: The toxins in cigarettes expose the skin to oxidative stress. This can cause premature aging, dryness and even wrinkles.
Sun exposure and sunburn: Both forms of UV exposure can be harmful to the skin cells and cause wrinkles.
Genetics: there are some rare genetic conditions that accelerate the signs of ageing.
Sleeping habits: Sleep gives the body time to refresh and regenerate its cells. With poor quality or quantity of sleep, the skin cannot regenerate these cells properly.
Diet: a diet high in sugar and carbohydrates can damage your skin over time.
Alcohol and caffeine intake: drinking too much alcohol dehydrates your body. Over time, this affects your skin by making it loose and losing its shape. Caffeine can have the same effect.
Environment: if you surround yourself in an environment with toxins and pollutants, you expose your skin barrier to these things, which causes damage to your skin cells overall.
Stress: Stress causes hormonal and chemical imbalances, which lead to ageing.
While some of these factors are unavoidable, there are some ways you can help slow down the ageing process.
With ample resources, here's what some celebrities swear by to keep them youthful.
Penelope Cruz
Cruz got his best beauty advice from his mother. This is by getting plenty of rest and eating a healthy diet.
Jennifer Aniston
Why hasn't Aniston aged a day since her breakout role as Rachel Green? She uses a mix of microcurrent and Clear and Brilliant facials Laser- treatments. She also uses quite a bit of make-up and wears a sun protection factor of 50 daily.
Halle Berry
Berry is known for her radiant complexion. When she wears makeup, she always opts for a dewy look, claiming it makes everyone look "a little better." Before applying makeup, she sprays the face with rose water to keep makeup fresh and dewy. This makes her look youthful, alive and fresh.
Salma Hayek
Hayek makes sure she does her laundry face with a gentle deep cleaning every evening. She never falls asleep with makeup on, never!
Sarah Jessica Parker
Parker also preaches about the wonder of going to bed with clean skin. She's also adamant about applying moisturizer and lip balm every day and night.
Chrissy Teigen
Teigen's secret to smoothing out fine lines? Shani Darden's serum Retinol Reform Resurface. Her esthetician does it for her, so it's tailored to her exact skin care needs.
Julianne Moore
Moore opts for a more affordable and accessible skin product: the L'Oreal Age Perfect Face Oil with Age Perfect Cell Renewal Day Cream SPF 15. This cocktail keeps her skin protected and moisturized all day. By adding two products to her routine, she gets extra moisture without feeling greasy.
Olivia Wilde
Wilde uses products from the True Botanicals Renew range. She cleanses in two steps, with Pre-Cleanse Oil followed by Hydrating Renew Cleanser. She also uses Vitamin C Booster a couple of times a week, Nutrient Mist and Pure Radiance Oil.
January Jones
Jones uses Tracie Martyn's Shakti Face and Body Resculpting Cream to firm up areas that need extra lift.
Jessica Alba
Alba's mother taught her to use sunscreen and to invest in good quality beauty products. She'd rather spend on good skincare products than clothes!
Linda Evangelista
The model uses a high SPF product daily and is a big fan of the Erasa EXP-30 serum.
Although not all of us can afford expensive ones serum and creams, there are some tips that celebrities swear by to keep their skin as youthful as possible.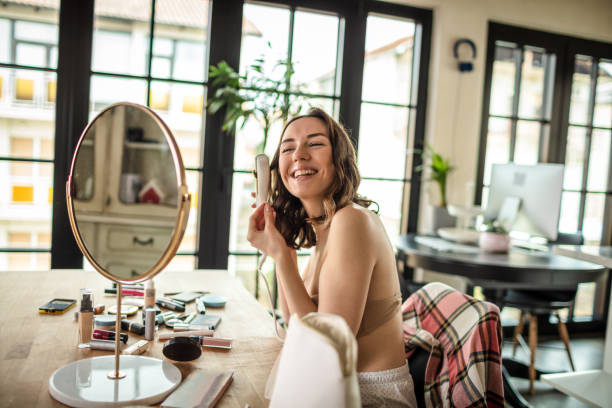 Here are some simple but scientifically proven ways for celebrities to stay young:
1. They love to drink water
A 2015 study confirms that drinking water regularly is good for your skin. Researchers found that drinking plenty of water daily increases skin's moisture levels. That said, hydrated skin can lead to a younger look and a youthful glow over time.
Celebrities like Jennifer Aniston and America Ferrera swear by drinking water and claim it has done wonders for their skin and body. Aniston, who is 48, and Ferreran37 have said that when they started drinking lots of water regularly, theirs changed hair, skin and nails drastically.
2. They take the time to sleep at night
Christina Aguilera, 36, is proud to admit that she sleeps at least eight hours every night. This is the amount of time recommended by the Centers for Disease Control and Prevention.
In 2016, researchers discovered that insufficient sleep can dramatically affect your skin. It can make you look older and less likely to recover from skin damage or irritation.
3. They always remove their make-up at night
Sleeping with makeup on is one of the worst things you can do to your skin. Mary J. Blige, 46, said she never goes a whole day or night without wash the face proper. With television appearances and red carpets, a celebrity's glamor can include very heavy makeup. It is imperative to remove all dirt and makeup from the pores before going to bed every night.
The American Academy of Dermatology points out that wash the face is one of the best ways to prevent premature aging of the skin. Even Dwayne "The Rock" Johnson, 45, includes a gentle deep cleanse in his nightly routine to stay youthful.
4. They eliminate stress whenever possible
Although it is not exactly scientifically proven how stress causes biological changes, it is known that stress releases chemicals in the body that can accelerate the signs of ageing.
Gabrielle Union, 44, says her best tip against ageing is the ability to say no. When we're under constant stress, our bodies go into fight-or-flight mode and release these stress chemicals. It's very possible that over time these chemicals break down our bodies.
5. They neither smoke nor drink
Mary-Louise Parker, 53, claims that quitting smoking and drinking made a big difference to her skin health. According to the American Society of Human Genetics, cigarette smoking and heavy alcohol use can alter your DNA and cause premature ageing.
6. They use sunscreen
We've all heard it before - sunscreen is the key to healthy skin. Julianne Moore, 56, has been using sunscreen every day since she was 23! Heidi Klum, 44, says: "A tan lasts a week or two before it fades, and the sun is so damaging - it's not worth it."
You should aim to use a broad-spectrum sunscreen with at least SPF 15 daily. If you spend any time outdoors, the Skin Cancer Foundation recommends applying a generous amount at least every two hours.
7. They eat fruit and vegetables
Christine Brinkley, 63, has been a strict vegetarian since she was about 12 years old. She suggests trying to fill your plate with as many colours as possible.
According to doctors, what you eat in a day has a direct effect on your appearance and how you age. Eating a diet rich in fruit and vegetables can help slow down the signs of ageing and help with your overall health.
8. They exfoliate
Daily exfoliation is the key to cell turnover for a generally youthful complexion. However, harsh physical exfoliants can strip the skin, leaving it irritated and sensitive. Find a gentle exfoliator that makes your skin feel its best. Kate Middleton, 39, uses a warm, damp washcloth to exfoliate and steam her face at the same time.
9. They moisturize
Moisturiser traps water in the skin, making your skin look brighter and younger. Beyoncé, 35, has said that one of her most valuable tips she's ever learned is to use a moisturising skin cream on a daily basis. For additional benefits, find skin moisturizers with extra SPF protection. Two birds, one stone!
10. They know it's not just about the face
The first areas to show signs of ageing are the neck and chest. To combat this, Kendall Jenner, 25, shares that her makeup artist uses the leftover serum from her moisturising eye patch on her neck and chest. It keeps the area moisturized and prevents any product from going to waste.
11. They train
Regular exercise has been shown to slow down the ageing process. Jennifer Lopez, 48, works out three to four times a week. Exercise can keep DNA healthy and young, directly slowing the signs of ageing.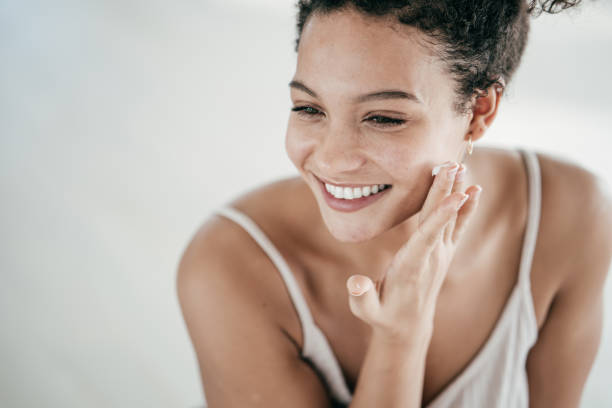 Technical treatments to keep your skin looking good
If you can apply all these celebrity-inspired tips and tricks, along with good quality products, you'll be well on your way to achieving the skin of your dreams. If you want an extra boost, consider trying these Vivre home care appliances to achieve your goals even faster.
Microderm treatments
Celebrities swear by exfoliation. It promotes skin cell turnover and removes excess dirt or debris from the skin. It also encourages healthy blood flow to give you that gorgeous J-Lo glow. Home microdermabrasion machines offer a deep yet gentle exfoliation that removes the damaged surface level of your skin and vacuums up any impurities at the same time.
Treatments to tighten the skin
Light treatment helps stimulate cell renewal, making sagging skin firm and youthful again. There are three sources of light therapy: There are three sources of therapy: bipolar RF energy, LED light energy and IR heat energy. Vivre® Skin Perfector 6 in 1 uses a powerful but painless combination of all three to restore skin elasticity. This way, strengthened or new cells can give your skin professional results.
Finally
Celebrities are lucky enough to have teams of doctors, dermatologists, dieticians and other experts to make sure they look youthful as they age. Drinking water, getting the right amount of sleep and using certain products is an easy and cost-effective way to ensure your skin stays young. Plus, there are home appliances designed to give you those celebrity-inspired results in the comfort of your own home. By combining these two things, your skin will feel renewed, rejuvenated and ready for the red carpet!