Just as there are a variety of styles to wear your hair in, there are several ways to style your hair down there. Whether you choose to wear it all natural or shaved, the choice usually says something about you.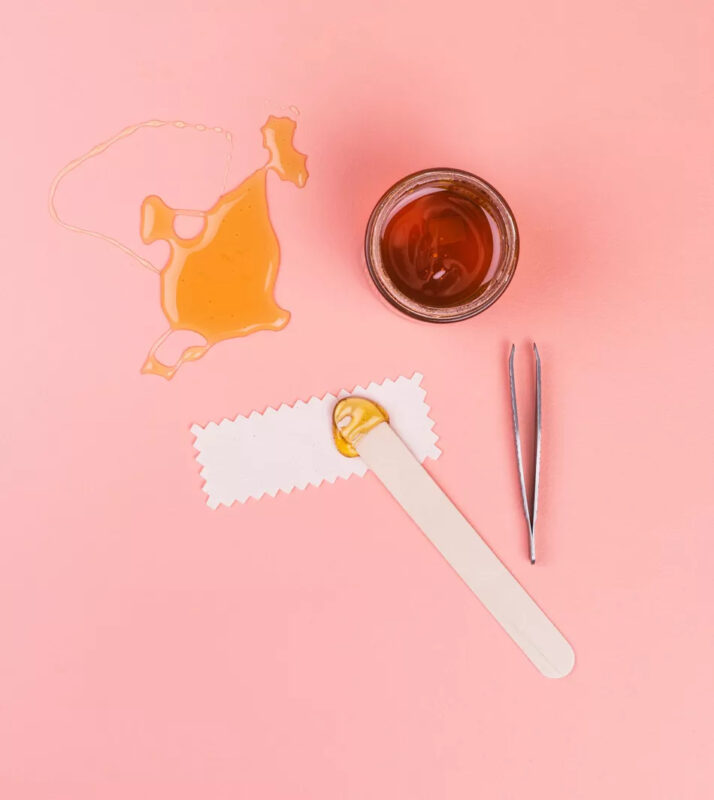 Through the now-defunct New York salon, The J Sisters, Brazilian waxing came into vogue in the 1990s and was immortalised by the fictional Carrie Bradshaw, who likened the treatment to "walking sex".
Janea Padilha of the formerly famous salon and aesthetician who claims to have figured out Brazilian waxing, counts a bevy of '90s superstars - Naomi, Cindy, Tyra, Uma - as clients.
The J Sisters salon boasts an autographed picture of Gwyneth Paltrow posing in a pool that reads "You changed my life." Can a beauty treatment really be that profound?
Maybe. Three decades later, Brazilian waxing is just as popular with ladies around town, as technological advances have made this extreme grooming treatment less uncomfortable to endure.
Further on in the article you'll read about the conversation we had with European Wax Center Education Manager, Gina Petak-certified dermatologist, Marisa Garshick, MD, and Nad's Brand Expert and Ambassador, Natalie Ismiel about everything you need to know about Brazilian waxing from prep to pain and after care.
"Best method for permanent hair removal!"
'A product that really gives you better results. Remove those unwanted hairs with laser in just a few treatments at home in peace and quiet.
What is Brazilian waxing?
Unlike a Hollywood wax that leaves you with nothing hair down there, with a Brazilian wax, you can keep a small landing strip, either in the shape of a rectangle, small oval or triangle, on the front region. All hair on the sides of the bikini area and the back are removed. (However, sometimes Brazilian waxing and "getting completely clean" are synonymous, depending on where you go.) The cost varies on average between SEK 400 and 700.
Bikini waxing vs Brazilian waxing

Brazilian waxing is the removal of everything hair (sometimes only a small strip is left above), while a bikini wax only removes hairs that would be visible when wearing a bikini bottom.
How is this different from a bikini line wax or bikini wax?
Basic bikini line waxing usually clears hair in the bikini area, where hair can protrude from the bottom of a swimsuit: on the sides of the bikini line (or underwear) and between the belly button and pubic bone.
Bikini waxes contain everything in a bikini wax plus hair removal for the front. Here you can choose to leave a strip or a triangle.
Brazilian waxing goes a step further by offering complete pubic hair removal; from the front of the pubic bone to the area below, called the perineum, to the anus.
Are there any advantages?
Absolutely. In addition to a softer bikini area, waxing is a form of deep exfoliation. According to the American Academy of Dermatology, this type of physical exfoliation removes dead skin cells from the top layer of the skin to promote collagen production and increase the effectiveness of topical treatments.
This form of hair removal is also one of the least irritating to the skin. The best option for hair removal, however, we believe is through IPL laser where you avoid pain and possible irritation if you have sensitive skin.
If done properly, waxing is less likely to cause unwanted rashes, bumps or other irritation than using a epilator or shaving. But that's not all. Waxing pulls hair out from the root and that's an advantage compared to shaving.
When hair grows back in the same place, it is usually weaker, softer and thinner than before. This means that over time, you'll have less hair to care for - and the hair that remains will be more manageable.
Hard wax or strip wax?
Try to find a salon that uses hard wax (or a soft wax with the right balance of titanium dioxide and glyceral rosinate) to minimise pain.
Hard wax only attaches the hair as opposed to strip wax, which removes the top layer of skin along with your hair (aaaayyy). "European Wax Center uses an exclusively developed, hard strip-free Comfort Wax," says Petak. "This wax is a proprietary blend of beeswax and other ingredients from Europe that help you get the most comfortable waxing experience."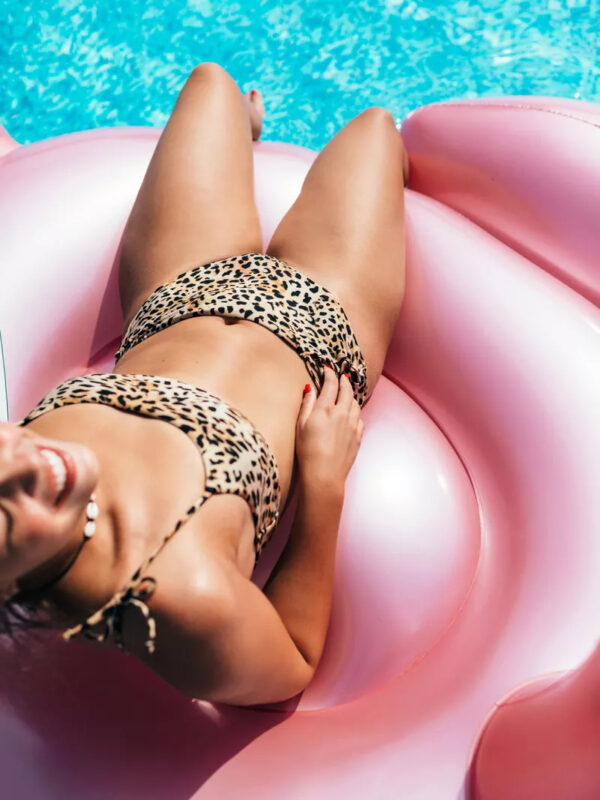 How to prepare the waxing
To prepare for your Brazilian wax, Petak recommends that your hair is at least 2 cm long, so it's a good idea to stop shaving at least five days (and 10-14 days for best results) before you book.
If you're going to exfoliate your skin, use a film-free (meaning it rinses off clean and doesn't leave skin coated in oil) exfoliant 24-48 hours before your wax, she adds.
Garshick says that sunburn can make waxing more painful and to avoid the treatment altogether if you have sunburn to prevent scarring. Also, skip the pool right before your Brazilian waxing, as salt and chlorinated water can dry or irritate the skin. "It's best to avoid this right before waxing because the skin may be more prone to irritation or damage if the skin is dry," says Garshick.
What you can expect from Brazilian waxing
"Waxing such a sensitive area can be uncomfortable, especially for beginners," Petak explains.
"But because waxing removes the hair from the root it makes it grow softer and finer. The more you wax, the less painful the treatments will be. " Petak continues.
"In addition, a high quality wax can make the experience more comfortable. To further minimise pain, take a painkiller tablet an hour before treatment. While not necessary, some find that an ibuprofen before waxing can help ease the discomfort," says Garshick.
Alcohol is a vasodilator, so it can increase blood flow to the area, making the skin more sensitive and more prone to bruising.
Also remember to breathe. Deep breaths can be calming for your nervous system and can help you by anticipating the pain and synchronising it with your breath. Try to breathe in during the waxing process and breathe out during the removal part of the process. All in all, the process takes about 20 minutes.
What will happen during your first treatment?
Your first treatment will probably take about 30 minutes to an hour, depending on how much hair you have and how much you want to remove during your session.
Here's what you can expect:
Your skin therapist will ask you to undress from the waist up and jump on the table.
Before the skin therapist does anything, they will probably ask you about your preferences. Let them know if you want a bikini line wax, a full bikini wax, Brazilian waxing or some hair strips left in.
Next, the skin therapist will clean the area to ensure that the wax has a clean surface to adhere to.
Once the area is clean, it's time for a pre-waxing treatment, usually using oil or a powder, to ensure the skin is protected.
Then, the waxing! Depending on the type of wax, your technician will use either paper or cloth to remove the hair. Smaller strips can be used under and around the anus while larger strips will be used on the front of the pubic bone.
Finally, they will treat the area with a serum or a cream to soothe irritation and prevent ingrown hairs.
DIY Brazilian waxing
If you find yourself in a position where you need to do a Brazilian waxing at home, the first step is to relax, especially since you don't have an expert present to calm nerves. "The most important thing is to read the instructions and precautions carefully before waxing, to minimize pain and irritation," says Ismiel.
"Sometimes the pain can be caused by the anxiety you may feel before waxing." Follow her steps below for how to do Brazilian waxing at home.
Before waxing, find a position you are comfortable with that gives you good visibility. It is recommended to do it in front of a mirror.
Always work on a small area at a time, starting from the outside and working your way into the more sensitive areas.
If you are using a hard wax, let the wax cool on the skin for about 30 seconds until it is still soft and smooth but no longer sticky to the touch.
Remove the hair by holding the skin taut with one hand and then lift the end of the wax with the fingers of your free hand.
When you're done, use an oil (like baby oil) to remove any wax residue (water won't work).
"Best method for permanent hair removal!"
'A product that really gives you better results. Remove those unwanted hairs with laser in just a few treatments at home in peace and quiet.
Can you wax during menstruation?
If you have a treatment booked and suddenly notice you've got your period, don't panic. "You can absolutely wax yourself if it's that time of the month," Petak says.
"Just be aware that the area is more sensitive and that you may experience more discomfort than usual." Make sure you wear a clean tampon so that there is no blood.
How long does Brazilian waxing last?
Usually your Brazilian wax will last between 3 - 4 weeks, but everyone's hair growth is different, so results will vary.
Is there anyone who should not be allowed to wax?
Your skin may be more sensitive if you are taking antibiotics, hormone replacement therapy or hormonal contraceptives. You can probably still get waxed, but you should check with your doctor to be sure.
You should also check with your doctor if you take oral acne medications, such as Accutane, or use topical retinoids, such as Retin-A. These drugs weaken the skin barrier through chemical peeling, and waxing can lead to painful over-exfoliation.
Radiation and chemotherapy can also lead to increased skin sensitivity and dryness, so waxing may not be the most comfortable hair removal method.
Aftercare
Dress comfortably after your treatment and bring a clean pair of underwear to change into. "Loose cotton clothing will cause the least irritation and be more comfortable after waxing," says Garshick.
She advises you to shower after waxing in lukewarm water. "It is generally recommended to avoid hot water as the skin is more sensitive after waxing," she adds.
When treating the skin after Brazilian waxing, be careful to use soft products to reduce the risk of irritation. "Creams or lotions are often the most gentle on the skin after Brazilian waxing and provide the most hydration that can be soothing to the skin," says Garshick.
"Avoid all products that contain alcohols, as it can lead to a burning or stinging sensation."
When choosing skin care products to use after Brazilian waxing, Patek recommends looking for the following ingredients:
To prevent redness or irritation, Garshick recommends avoiding harsh ingredients or fragrances if your skin is particularly sensitive.
Side effects of Brazilian waxing
As with all types of waxing, Brazilian waxing is not very suitable for irritated skin and can cause discomfort. Fortunately, there are a few things you can do to make life after waxing more enjoyable. First, to cut down on ingrown hairs, make sure you don't skip the exfoliation step before waxing. If you still notice that you have ingrown hairs even after you've exfoliated properly, apply a warm compress to your skin.
If you notice that the ingrown hair has become infected, contact your dermatologist. If you want to prevent ingrown hairs, Garshick recommends asking your doctor about prescription medications that may be helpful to use after waxing, such as cortisone cream or antibacterial lotion.
If you notice small red dots associated with the waxing, typical of razor burn, be sure to keep the area moist and apply a cortisone cream to reduce redness.
In case you accidentally burned yourself with hot wax, apply clean, sterile cotton over the area. A dermatologist should take a look at your burn first, no matter what part of your body it involves.
Last word
Keep in mind that Brazilian waxing is a temporary treatment and the hair will grow back again soon. Unlike IPL laser hair removal waxing involves a lot of pain and irritation. If you want to get rid of unwanted hair permanently without pain, we recommend that you try Vivre IPL.