Have you ever wondered if it is possible to remove wrinkles with laser? Although there is no magic formula to eliminate them all wrinkles, it has been shown that laser treatment is one of the most effective methods to reduce the visibility of wrinkles and give a smoother skin texture. By using the technology, you can see significant improvements in your skin and regain the confidence that comes with having a youthful and healthy complexion. Read on to learn more about how to remove wrinkles with laser treatment and experience amazing results!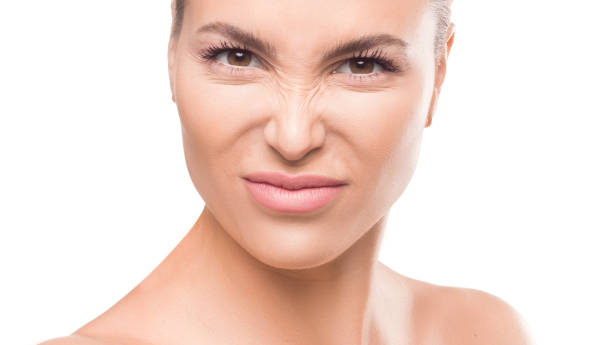 1. What is laser treatment for wrinkles?
Laser treatment for wrinkles is one of the most innovative treatments available to reduce and minimize the signs of skin aging. The laser technology is gentle and scientifically proven and can effectively reduce wrinkles and fine lines, as well as improve the skin's texture and appearance.
One of the primary advantages of laser treatment for wrinkles is that it is non-invasive and painless. This means you don't have to worry about any long rehabilitation periods or painful side effects. Instead, laser treatment is a convenient and relatively quick method that can produce amazing results in a short time.
When you choose laser treatment for wrinkles, you can expect an advanced treatment with great precision. The laser penetrates deep into the skin, where it stimulates the production of collagen and elastin – two important substances responsible for keeping the skin young and elastic. All of this can help you look younger and healthier, and reduce the appearance of wrinkles and lines.
Thanks to innovative technology, there is now a wide range of laser treatments that can be customized and used to meet specific needs. To achieve the best results, a consultation with a certified dermatologist or beauty expert who can assess your individual needs and advise on the right treatment is usually recommended.
Because laser treatment for wrinkles is so reliable and effective, it is one of the most sought-after beauty services available on the market. Whatever is bothering you in your face - whether it's wrinkles, sagging skin or something else - you can expect to see amazing results with laser treatment for wrinkles. Choose the treatment that works best for you, and start experiencing all the amazing benefits that this advanced technology can provide.
2. How does laser work to treat wrinkles?
Laser treatments have been one of the most effective ways to treat wrinkles and other signs of aging. A laser clinic uses high-tech laser techniques to reduce wrinkles and tighten the skin for a youthful glow and appearance.
Laser treatments work by penetrating the skin with a high-intensity beam of light. When the laser passes through the skin, it creates an injury that the body then repairs on its own. This repair of the skin is what gives the desired effect, by increasing the production of collagen and elastin.
The treatment of wrinkles with laser is painless and has minimal recovery time. It is one of the most sought after treatments for women of all ages. The effectiveness of the laser depends on the specific technology used. CO2-laser, fractional laser and ablative laser are some of the most common laser techniques used to treat wrinkles.
CO2 laser treatment is the most aggressive laser technique where the skin is removed layer by layer. This is not something that is usually done on the whole the face, but usually on specific areas where wrinkles are more obvious. Another common laser treatment is fractional laser, where the laser only damages small areas of the skin, which reduces the risk of side effects and shorter recovery time.
To ensure that the treatment is successful, an experienced and qualified laser technician is required. Choosing the right clinic and techniques is crucial to achieve the desired result and to avoid unwanted side effects.
In conclusion, laser treatments are an effective and safe method to reduce wrinkles and give a youthful glow to the skin. Consult with an experienced laser technician to choose the best laser technology for your needs and to ensure a successful outcome.
3. Which areas of the body can be treated with laser?
Laser treatment has become an incredibly popular method of removing unwanted hair and age spots, but it is actually a versatile treatment that can be used to address many different beauty concerns. Below we list some areas of the body that can be treated with laser.
Face
Laser treatment can help reduce fine lines, wrinkles, pigmentation changes, acne scars and sun damage the face. It can also be an effective treatment to reduce redness and scarring after surgery or injury.
The body
In addition to removing unwanted body hair, lasers can also be used to reduce cellulite, tighten loose skin and remove age spots on the body. It is also a common method of treating scarring from surgeries or injuries.
Hands and feet
Laser treatment is a popular method for removing age spots and sun damage on the hands. It can also be used to remove dark spots on the feet and smooth wrinkles and fine lines on aging hands.
Intimate area
Laser treatment is a popular method of removing unwanted hair on intimate areas in both men and women. It can also be used to reduce pigment changes and unwanted vessels in the area.
It is important to note that laser treatment is not suitable for all skin types and colors. It is best to consult a professional skin therapist or doctor to determine if laser treatment is right for you and which type of laser is appropriate for your specific problem. Keep in mind that multiple treatments may be required to see optimal results. With the right choice of laser, you can achieve amazing results and feel more confident in your own body.
4. What are the benefits of using lasers to remove wrinkles?
Using laser treatment to remove wrinkles is an innovative method that has become increasingly popular in the beauty industry. If you are also considering this treatment, you have come to the right place. Here are some benefits of using laser to remove wrinkles:
Long-lasting results: Laser treatments give you significant results that last for years. This is because the laser stimulates the production of collagen which helps build up the skin and prevent wrinkles.
Minimal side effects: One of the great advantages of laser treatments is its minimal side effects. Unlike other methods such as dermabrasion or chemical peels, laser treatments do not leave redness or scars on the skin.
Fast processing time: Laser treatment is a quick method that requires no recovery period. It usually only takes a few minutes to treat a surface and you can return to your daily activities immediately after the treatment.
Painless treatment: In the past, laser treatments have been painful and unpleasant. However, with the latest technology, the pain has been significantly reduced and today the treatment is almost painless.
In addition to the above benefits, laser treatment also provides other benefits such as improving skin texture, reducing visible pores, evening out skin tone and removing sun spots. But before you decide on this method, talk to your dermatologist or cosmetic surgeon to find out if this is the right method for you.
So, if you want a quick and painless solution to remove wrinkles, laser treatment may be just what you need. So what are you waiting for? Try this innovative method and get your youthful skin back!
5. What results can one expect after a laser treatment?
After a laser treatment, you can expect the skin to become cleaner, smoother and firmer.
A laser treatment can be used to reduce fine lines and wrinkles, remove dark spots and pigmentation, reduce redness and inflammation and stimulate the production of collagen and elastin in the skin.
After a laser treatment, it is recommended to avoid direct sunlight and use a high sun protection factor to protect the skin from sun damage. Most people do not experience any discomfort after the treatment, but there may be a slight redness and swelling which quickly passes.
Most people see an improvement in their skin immediately after treatment, but it can take up to six months for full effects to be seen. A series of laser treatments may be recommended for the best possible results.
Laser treatments can be used for:

To reduce fine lines and wrinkles
Remove dark spots and pigmentation
Reduce redness and inflammation
Stimulate the production of collagen and elastin in the skin

After a laser treatment, it is recommended to:

Avoid direct sunlight and use a high sun protection factor
Caution when using products on the treated area
Consult your doctor if there is any discomfort or nausea
After a series of treatments, you can enjoy firmer, healthier and more youthful looking skin. Be sure to choose a licensed therapist or doctor experienced in laser treatment to achieve the best possible results.
6. Are there any risks or side effects with laser treatments for wrinkles?
When it comes to laser wrinkle treatment, there are risks and side effects that you should be aware of. But with a careful examination and the right choice of clinic, you can avoid them.
A common side effect after a laser treatment is redness and swelling. This is because the skin is affected by the laser beam, which stimulates the formation of new collagen and elastin. This results in the skin looking younger and wrinkles are reduced. But it can also lead to overstimulation of the skin, causing short-term redness and swelling.
Another risk is the development of pigment changes in the skin. This usually happens when a person with dark skin is treated with a laser that is not particularly suitable for his or her skin type. To avoid this, it is important to choose a clinic with experience in treating all skin types.
A third risk is that the treatment itself will be painful. This may be because the radiation intensity is high or because areas with very thin skin are being treated. If the pain becomes overwhelming, a local anesthetic may be applied to the area to ease the discomfort.
Finally, there are risks of infection and scarring with laser treatments, but these are rare and can be reduced by following post-treatment guidelines carefully.
To sum up, it is important that your clinic carefully examines your skin and chooses the right type of laser to minimize the risks of side effects. By choosing an experienced clinic and following the aftercare instructions carefully, you can enjoy the benefits of a laser treatment without any significant risks or complications.
Laser wrinkle removal can be an ideal method to achieve smoother and more youthful looking skin. With the latest technology and the use of a qualified and experienced licensed physician, the treatment is safe and effective. It's important to have realistic expectations and take care of your skin to achieve the best long-term results. So don't worry, there is nothing to lose in taking the step towards better and younger looking skin!
FAQ:
1. Can everyone remove wrinkles with laser?
No, people with hyperpigmentation, sensitive skin or a history of skin cancer may not be suitable candidates for the treatment. It is important to discuss any medical conditions or current medication with your doctor prior to treatment.
2. Is it painful to remove wrinkles with laser?
The level of pain can vary depending on the patient and the size of the treated area, but an anesthetic ointment is applied before the treatment to reduce pain and discomfort.
3. How many treatments do I need to remove my wrinkles with laser?
The number of treatments required will vary depending on your skin and your goals. Generally speaking, several treatments may be required to achieve optimal results. Your doctor can discuss a treatment plan with you based on your unique needs.
4. Which wrinkles can be removed with laser?
The laser can be used to treat fine lines and deeper wrinkles around the eyes, mouth and forehead. The results can be dramatic and contribute to a younger and fresher look.
5. Are there any side effects of laser treatment to remove wrinkles?
A common side effect is some redness and swelling after the treatment. But these symptoms usually go away within a few hours or days. Your doctor can give you detailed information about the possible side effects that may occur.