Braun Silk Expert Pro 5 is Braun's flagship epilator and one of the better IPL machines available. The main disadvantage is that it is not cordless, which means a lot of limitations in use.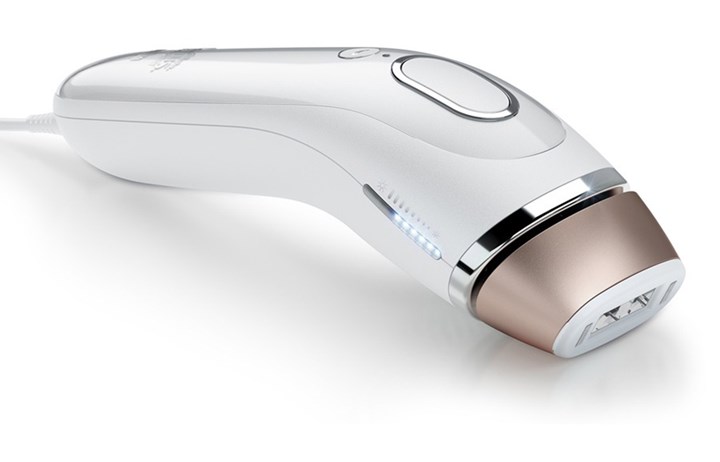 Looking for a cordless alternative to the Braun Silk Expert Pro 5 epilator we recommend Live Pro IPL which is a Swedish brand where you get the same features as on Braun + 3 extra attachments (Braun only has 1) + it is cordless at half the price of Braun Silk Expert Pro 5 epilator.
If you are not familiar with IPL for "intense pulse light", and these machines can be used at home to significantly (and painlessly) reduce the regrowth of body hair. They won't annihilate body hair for good, but for some skin tones and hair types, they will seriously reduce the amount hair and make it much easier to be hair free.
Braun Silk Expert Pro 5 SensoAdapt
Braun Silk Expert Pro 5 epilator is designed to be fast, safe and effective, with a built-in SensoAdapt function that continuously adjusts light intensity based on skin tone. There are a few different models, but the different options only refer to the extra features included - you get the same basic machine with all of them.
Braun Pro 5 IPL is one of the fastest and most straightforward IPL-the high-power devices for home use that we have tested. It's safe for light to dark skin and automatically adjusts each pulse to your tone, and it works in the dark hair. Compact, lightweight and fast too face, small and large areas.
Braun Silk Expert Pro 5 epilator uses intense pulsed light energy (IPL) to damage and "shut down" the hair follicles, which slows down and prevents regrowth hair. Periodic treatments keep your skin hair-free and smooth.

Safe to use on light to medium dark skin tones (Fitzpatrick skin types I to V). Not safe for the darkest skin (type VI) or on dark freckles and birthmarks.

Works on black to dark blonde hair. Not effective on light blonde, red and grey/white hair.
First impressions of the Braun Silk Expert Pro 5 epilator
The packaging is professional, informative, attractive, compact and stylish. It is also robust. I like that there is very little plastic because the storage case keeps everything covered, clean and together.
Braun Pro 5 IPL epilator is safe, fast and effective permanently visible hair removal with SensoAdapt skin tone sensor for Smart IPL.
The back of the box explains the main features of the Braun Pro 5 IPL, including the accredited Skin Health Alliance logo.
What's in the box?
Braun silk-expert Pro 5 IPL with extra attachment
Fixed power cord and base station package
Power cable and plug
Precision accessories (not with PL5014 model)
Venus razor and blades (differs from model to model)
User manual
The white and gold IPL unit is sophisticated and refined. I like the clean lines, subtle curves and gold accents. It's compact and lightweight, but feels solid and high quality - just what you'd expect from Braun.
Before you start
Before you start "zapping" with IPL at home you should first read the instructions for use and do a skin sensitivity test.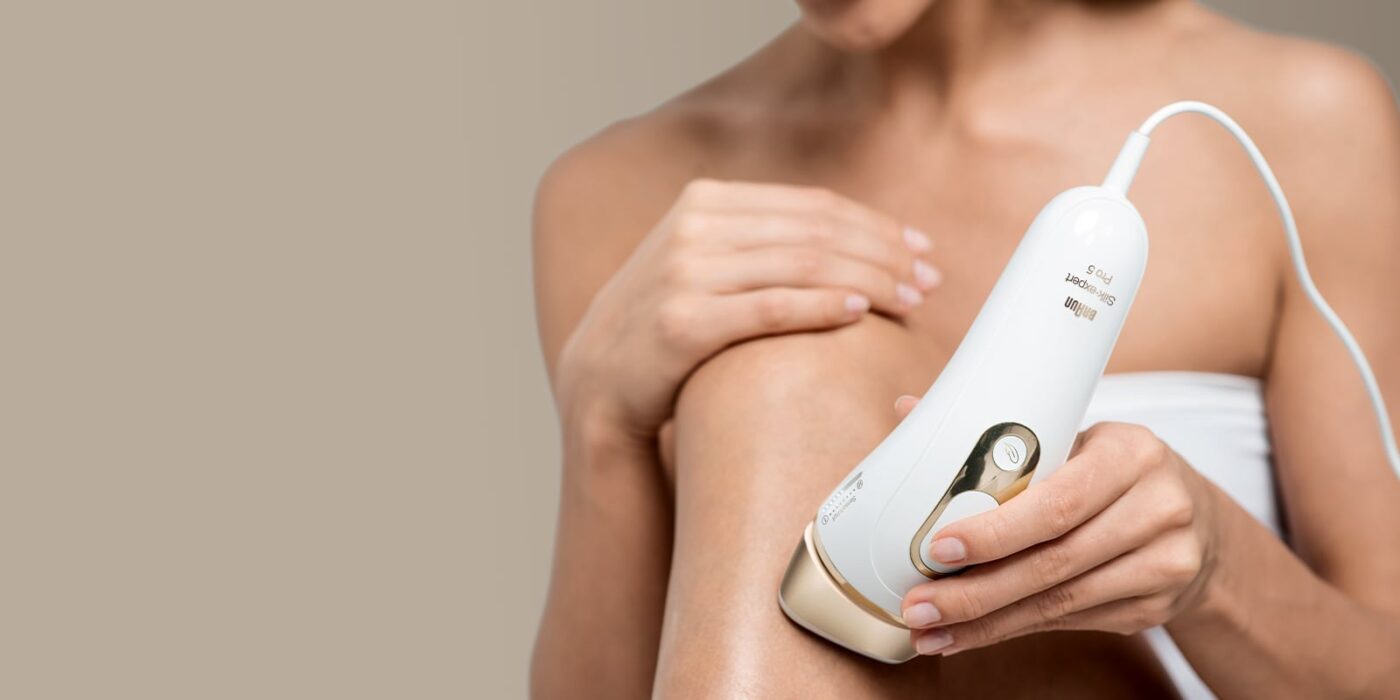 The user manual is quick and easy to read. It is well organised with good spacing and useful diagrams. You will find the chart of safe skin tone and hair colour, a diagram of the IPL device, a brief explanation of how IPL works, contraindications and warnings, how to use it, about your skin patch test, the treatment plan, cleaning and storage, possible side effects and a troubleshooting guide.
Please take the time to read the important safety information, warnings and reasons why you should not use Braun Silk-expert Pro 5. These include pregnancy, epilepsy, photosensitizing medications, skin problems, tattoos or after skin peeling. Read more about IPL contraindications here to ensure it is safe for you.
You also need to follow sunbathing and sun exposure guidelines to keep your skin safe and avoid side effects. Braun recommends:
To think about
Wait 7 days after tanning before starting treatment, or wait until your tan has faded.
Avoid the sun for 7 days after your treatment.
Cover up and use sunscreen with SPF 15+ after treatments to avoid unprotected sun exposure.
To avoid
Do not use Braun epilators on freshly tanned or sunburned skin, including artificial tanning.
Do not use tanning beds or solariums during your treatments.
In short, it's best to avoid sunbathing altogether during your treatment. Both through sunlight and artificially with candles or creams.
Wait 48 hours after your skin sensitivity test. If your skin is normal, you can continue with your first treatment (but avoid the test patch until the next weekly session).
Get started with Braun Silk Expert Pro 5 epilator
Here's a quick summary of how to use the Braun Pro 5, and there are many more details in the following sections.
Just follow these steps:
Shave before each treatment (if there is any hair left!).
Plug in and press the pulse or spring button. The 3 small intensity mode buttons will light up white and you will hear the fan start inside.
Choose your intensity mode by pressing the spring button. 3 lights mean high, 2 gentle and 1 extra gentle.
Place the flat on the skin at a 90-degree angle and press the pulse button.
Slide to the next point and repeat.
When you are finished, unplug the Braun IPL from the mains and switch off.
For this review, I tested the Braun Pro 5 epilator on my entire legs, extended bikini line, underarms and face. And wow, it's simple, straightforward and ultra-fast
Ergonomic shape and high quality construction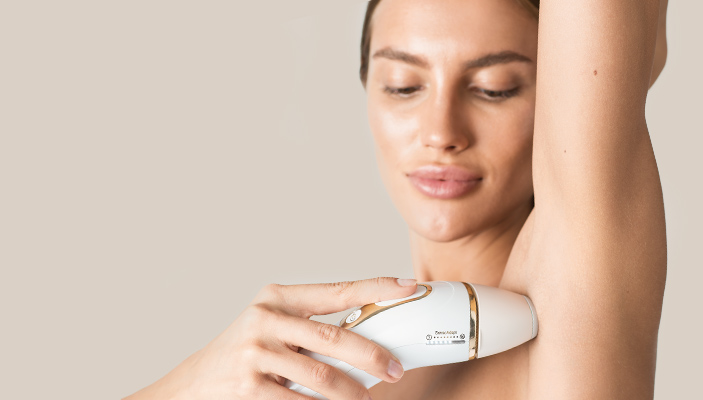 The Braun silk expert epilator has a compact and elegant shape. And although it's light at 285g, it feels solid and well-balanced.
The 2 metre cord is great to have. It is attached to the base of the unit with the power supply at the other end. So unlike previous models, the weight of the battery won't pull the cord out in the middle of use. There's also a smaller 90cm cord that connects the PSU to the mains, so you get the whole handy 2m cable to play with. Use an extension cable for more flexibility.
It's easy to handle all around your body, even if you have small hands. The large pulse button is easy to press with your fingers or thumb. And it works in a few different grips.
Lamp life
The lamp gives 400,000 pulses. Together with the 3 cm2 pulse window, you can therefore treat a total of 1,200,000 cm2 body surface. It is enough for over 200 full-body treatments of the entire legs, bikini line, armpits and face. This provides more than 10 years worth of monthly full body treatments. Braun says the pulse should last for about 22 years.
Extra attachment for body and face
With all models you get standard body mount. It is 1 cm x 3 cm, giving a total pulse area of 3 cm2. It is an excellent multi-functional window for legs, body, armpits and bikini line. But awkward to get a laser pulse to your moustache and jawline.
With the PL5137 and PL5124 epilator models, you also get a smaller white precision attachment.The pulse window is 1.1 cm wide and 1.5 cm long with a total pulse area of 1.65 cm2. It is particularly suitable for the upper lip and around the jawline. And works well on fingers and toes too.
Eye and skin safety
Braun Pro 5 IPL has 10 intensity levels and works with high IPL intensity, the highest level on level 10 is 6 J/cm2. This means that if you have light skin and use the higher levels, you will get longer lasting results than less powerful devices. The lower intensities are designed for darker skin.
You can rest assured that the Braun Pro 5 epilator is clinically tested and safe for home use and meets the necessary European manufacturing and safety standards for CE marking. It is FDA-approved in the US as well.
How to protect your eyes and skin
You must hold the pulse window against the skin so that the two skin sensors are covered. If not, it will not activate. This means that you cannot accidentally pulse light it in the open air anywhere near your eyes.
There is a built-in UV filter. And the advanced skin tone sensor prevents the IPL pulses from damaging your skin. That's also why the Braun Pro 5 IPL is simple and straightforward to use.
This means it chooses the most powerful intensity that is still safe for your skin tone. And from 10 steps versus 5 as with other IPL machines. This means a more precise adaptation to your skin tone and the best possible results in the shortest possible time.
This clever technology takes all the hassle and guesswork out of deciding which intensity level to choose. Just plug it in and start zapping!
Gentle locations for sensitive areas
IPL treatment can be felt when a little on more sensitive body parts like the bikini line and armpits. Fortunately, Braun IPL has 2 additional comfort modes to adjust the intensity. They are easy to activate.

(If you are sensitive to feeling when treating different areas, we recommend Live IPL Pro where there is a built-in cooling system that means you won't feel anything at all during treatment.)
1 light means extra gentle mode. This selects the lowest IPL intensity level 1.
2 lamps means gentle mode. This reduces the intensity so that you see fewer white indicator lights shining.
3 lamps means standard mode. Braun IPL balances maximum power and safety for your skin tone.
Extra gentle mode provides additional reassurance if you have darker skin. However, if safety and comfort for darker skin is your concern, you should consider my recommended devices for dark and black skin.
Braun Silk Expert Pro 5 epilator is fast
Braun Pro 5 IPL is a fast, high-powered IPL device for home use. The pulse rate is 0.6 to 1.2 seconds, fastest at the lowest intensities. Press and hold the pulse button for continuous pulse in slide mode. After each flash, the hand unit slides 1 cm along the skin to the next position.
You'll appreciate the compact and lightweight design for easy handling. Braun Pro 5 is fast and manageable.
Braun says you can do both lower legs in 5 minutes at the lowest intensity level. For me, it chose the higher intensities and one lower leg took just over 3.5 minutes. A full leg took me about 9 minutes.
I did IPL hair removal at home on full body in just under 28 minutes (full legs, extended bikini, armpits and face). It's one of the fastest high-powered IPL machines I've tried. It only turns off Live IPL Pro. So if you don't have much time to spare and speed is what you need most, this is a solid choice.
How does it feel?
You hear the cooling fan whirring inside the unit. And you hear each pulse "pop".
The pulses are laser light, but harmless to the eyes. There is no need to buy specialised goggles or glasses. Use it in a well-lit room so that the flashes don't seem so intense. Sunglasses can help relieve any irritation you may feel.
It feels warm against your skin. Some more sensitive areas, such as ankles, thighs, bikini line and armpits may get a little warm. Hair is generally thicker and denser on the bikini line and underarms so these areas may be uncomfortable. Simply choose gentle or extra gentle mode if it feels too intense. Sometimes it's easier to start with the more sensitive areas.
It goes very quickly so you won't get bored. But it still requires concentration because you have to remember which areas you have covered. That way you avoid too much overlap and missed hairy parts.
Skin redness is a common skin reaction to IPL. Your skin may also feel a little warm. This is normal and should subside within 24 hours. You can cover it with a cool face cloth or an ice pack. Cooling water sprays are also good, Aloe Vera gel or an unscented moisturiser.
After your treatment, avoid things that can irritate the skin you have treated. For example, the use of bubble baths and saunas, the use of tight-fitting clothing, the use of bleaching creams and perfumed or exfoliating products.
Avoid sunburn and wear sun protection factor, preferably 30+, if you are exposed to the sun! If you don't, you risk suffering some of the rare IPL side effects at home.
Efforts and results
Laser- and IPL devices for home use require commitment. There is a starting routine to get you results, and then with the help of extra sessions you can maintain your results. Your total effort depends on the number of startup sessions and how fast each session is.
Braun says you'll need between 4 and 12 weekly sessions to achieve smooth, hair-free skin. You can get there before 12 sessions but most people see significant results after 6 sessions. A full body session takes about 30 minutes. Therefore, during the start-up you will spend between 3 and 6 hours zapping.
Once you've achieved that, move to less frequent "refills". This could be every two or three months. After several treatments, you will probably need treatments even less frequently. Braun Pro requires so little of your time and effort to get excellent results.
What results can you expect from the Braun epilator?
Shave before each treatment and/or between treatments as needed.
Our testers' experience is consistent with the advertised results. They noticed slower hair growth in their legs after 2 treatments. It became softer and lighter after session 3. They had large, smooth hairless areas after 5 sessions that made shaving super fast. After 6 sessions there was very little hair left.
Once you're hair-free, you can repeat the process whenever you need to. Shave if you need to before these. Try to place a few treatments a month apart and eventually increase occasions to 2 months and even longer.
So far, our testers have said, "I have now done 6 treatments and 3 extra treatments at one month intervals. In the beginning I noticed that there were some hairs around the top of my ankles. So I shaved and flashed them and now they are gone. I will continue and try to reduce the number of uploads to every 6 weeks."
Refill sessions are essential for all home IPL and laser devices. Studies show that the more treatments you do, the longer your results will last. So over time, you'll need top-ups even less often.
Braun Pro 5 ipl disadvantages
There are only a few minor negatives to mention about the Braun Pro 5.
Firstly, as mentioned earlier, the Braun Pro 5 epilator is fast and magical on large areas like legs. However, sometimes the pulse rate is unpredictable so you can slide it too far, or not far enough between pulses. I think this is due to how the sensors scan your skin and select the IPL intensity before each flash. Try to stay in close contact with your skin to keep it even.
It takes some practice to find your technique and rhythm (especially if you're used to a slower IPL machine).
The price is the next big disadvantage. A price tag of about 4500 SEK is too much considering that there are alternatives like Live IPL Pro where you get the same features + that Vivre is also cordless at only 2990 kr.
Should I buy Braun pro 5 epilator?
It's a great IPL device for home use that gives you silky smooth skin. It is good for full body and facial treatments because it is simple, lightweight and fast. However, we recommend Live IPL Pro where you get the same features + 3 extra brackets + that Vivre is also cordless at only 2990 kr.
Braun pro 5 IPL video review